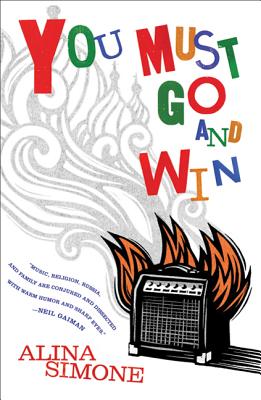 You Must Go and Win (Paperback)
Essays
Farrar, Straus and Giroux, 9780865479159, 256pp.
Publication Date: June 7, 2011
* Individual store prices may vary.
Description
In the wickedly bittersweet and hilarious You Must Go and Win, the Ukrainian-born musician Alina Simone traces her bizarre journey through the indie rock world, from disastrous Craigslist auditions with sketchy producers to catching fleas in a Williamsburg sublet. But Simone offers more than down-and-out tales of her time as a struggling musician: she has a rapier wit, slashing and burning her way through the absurdities of life, while offering surprising and poignant insights into the burdens of family expectations and the nature of ambition, the temptations of religion and the lure of a mythical Russian home. Wavering between embracing and fleeing her outsized and nebulous dreams of stardom, Simone confronts her Russian past when she falls in love with the music of Yanka Dyagileva, a Soviet singer who tragically died young; hits the road with her childhood friend who is dead set on becoming an "icon"; and battles male strippers in Siberia.
Hailed as "the perfect storm of creative talent" (USA Today, Pop Candy), Simone is poised to win over readers of David Rakoff and Sarah Vowell with her irresistibly funny and charming literary debut.
About the Author
Alina Simone is a critically acclaimed singer who was born in Kharkov, Ukraine, and now lives in Brooklyn. Her music has been covered by a wide range of media, including BBC's The World, NPR, Spin, Billboard, The New Yorker, and The Wall Street Journal. She is the author of the book You Must Go and Win. 
Praise For You Must Go and Win: Essays…
"Vibrant, taut and humorous…[Simone] skillfully captures the forlorn waiting-to-be-famous existence of young creative people." —Kirkus
"Singer-songwriter Simone dissects her Russian roots, her convoluted path toward religion, and what it means to be an artist, in this razor-sharp debut essay collection. Born in Kharkov, Ukraine, in 1974 Simone moved to Massachusetts with her parents (her father was blacklisted by the KGB) as an infant and grew up loving to sing. But the road to indie rock stardom is a bumpy one, from trying to find a producer on Craigslist in "Gloom-Deflecting Mailman Warrior Gods" to being so close to getting your album distributed, then hearing that all the money's been stolen, in "Down and Out on Hope Street." Working for a nonprofit that ran a teaching program in Russia, Simone's own past and her musical inspirations soon merged around the figure of Siberian punk rocker Yanka Dyagileva, who died young in 1991 and whose songs Simone covered in a 2008 album. In "I Wanted Unicorns," she recounts a Russian trip where she not only sees Dyagileva's grave but is baptized by a renegade priest named Punk Monk. Throughout all of this, she struggles to figure out how to make a life--and a living--from making music. Simone ably juggles the philosophical and the comical, her genuine enthusiasm for arcane subject matter as contagious as the fleas in her long ago apartment." —Publishers Weekly (starred)
"Most collections of personal essays are dull. This one isn't. Alina Simone uses her life as material to tell stories that are funny, heartwarming, tragic--often all at the same time. Her subjects, whether music, religion, Russia, or family, are conjured and dissected with warm humor and sharp eyes. Probably it's a really good thing she never became an international rock star: she wouldn't have written this if she had." —Neil Gaiman
"Never has the paying of creative dues been written about with more sincerity and humor. As a twenty-first century Portrait of the Artist, warts and all, You Must Go and Win is a delight and, in all honesty, an inspiration." —John Wray, author of Lowboy
"At the memoir's core is a protagonist yearning to establish musical connections to her past. Simone's earnest desire to represent individuals honestly leads to detailed character descriptions that enliven the people in her memoir." —Joshua Finnell, Library Journal
"A collection of wry, fascinating essays . . . The combination of her Russian heritage and her escapades as a struggling artist provide fodder for poignant and hilarious tales like arriving in her native Kharkov to meet The Cousin Who Drinks Water. No matter how foreign the territory, be it a studio or the Ukraine, Simone's writing is imminently relatable." —BrooklynBased
"Her warm and hilarious new book is full of self-effacing anecdotes about trying to make it as an artist in New York and other madcap adventures--making it one of few memoirs that stands out in a crowd." —Jewcy.com
"The resulting book is a collection of funny, cynical essays on meeting sketchy producers off of Craigslist, her obsession with Skopsy, a Russian castrati set, and battling fleas in her Williamsburg apartment." —Courier Life
"After a chance listen by a major publishing editor on Pandora, Alina was asked to write the essays for the book, You Must Go and Win . What comes out are essays about trying to find a roommate in Brooklyn, living in the realm of the music PR machine and explorations of her Russian background. Some would say 'poignant' and 'introspective.' But there's also a deftness Alina has in discussing the business of music along with the hopes and dreams wrapped up in it." —Impose Magazine
"An engaging and honest look at an indie musician's life…Written with clutter-free concision, Simone's search for meaning reads pithy and often laugh-out-loud funny." —Blurt
"Simone reveals the flair of a born raconteur, recounting record deals gone bust; the ubiquity of Britney Spears, even in Siberia; and hanging out with alt-cabaret belter Amanda Palmer, Simone's childhood friend." —SPIN
"Amazing . . . Sarah Vowell fans, trust me on this one: pre-order Alina Simone's 'You Must Go and Win' now. The funniest essays I've read in years." —Michael Schaub, Bookslut