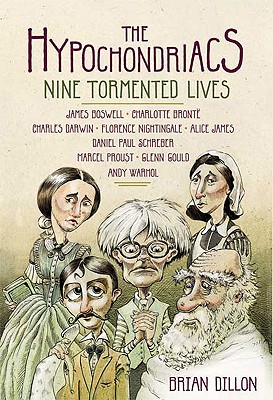 The Hypochondriacs (Hardcover)
Nine Tormented Lives
Faber & Faber, 9780865479203, 288pp.
Publication Date: February 2, 2010
Other Editions of This Title:
Paperback (2/15/2011)
Compact Disc (1/1/2011)
MP3 CD (1/1/2011)
Compact Disc (4/1/2013)
* Individual store prices may vary.
Description
Charlotte Brontë found in her illnesses, real and imagined, an escape from familial and social duties, and the perfect conditions for writing. The German jurist Daniel Paul Schreber believed his body was being colonized and transformed at the hands of God and doctors alike. Andy Warhol was terrified by disease and by the idea of disease. Glenn Gould claimed a friendly pat on his shoulder had destroyed his ability to play piano. And we all know someone who has trawled the Internet in solitude, seeking to pinpoint the source of his or her fantastical symptoms.

The Hypochondriacs is a book about fear and hope, illness and imagination, despair and creativity. It explores, in the stories of nine individuals, the relationship between mind and body as it is mediated by the experience, or simply the terror, of being ill. And, in an intimate investigation of those lives, it shows how the mind can make a prison of the body by distorting our sense of ourselves as physical beings. Through witty, entertaining, and often moving examinations of the lives of these eminent hypochondriacs—James Boswell, Charlotte Brontë, Charles Darwin, Florence Nightingale, Alice James, Daniel Paul Schreber, Marcel Proust, Glenn Gould, and Andy Warhol—Brian Dillon brilliantly unravels the tortuous connections between real and imagined illness, irrational fear and rational concern, the mind's aches and the body's ideas.
About the Author
Brian Dillon was born in Dublin in 1969. His first book, the memoir "In the Dark Room," won the 2006 Irish Book Award for nonfiction. The U.K. editor of "Cabinet," a quarterly of art and culture based in New York, Dillon is a research fellow at the University of Kent.
Praise For The Hypochondriacs: Nine Tormented Lives…
Praise for The Hypochondriacs


"Dillon's brimming volume . . . provides good company for the ceaselessly suffering imaginary-malady-struck." —David Finkle, The Huffington Post

"An intriguing, suavely written blend of medical history and literary criticism, a book that adds to the growing (or metastasizing) field of pathological biography." —Heller McAlpin, Los Angeles Times

"Dillon writes the sort of refined, slightly rarefied prose that might have once been called belletristic—an old-fashioned word for an old-fashioned but pleasant style. This balances out the freakish complaints and treatments undertaken by his subjects, and so The Hypochondriacs walks the line between voyeurism and thoughtfulness with considerable dexterity . . . What makes The Hypochondriacs fascinating is the ever-shifting spectacle it offers of human folly and ingenuity, and the revelation that it can be so hard to tell the two apart." —Laura Miller, Salon

"Superb . . . Thought-provoking and gracefully written." —Daphne Merkin, Bookforum

"[Dillon's] nine case studies embrace writers and artists, thinkers and iconoclasts; they are full of insight and beautifully constructed, with a wealth of cultural reference and a breadth of imagination behind them." —Hilary Mantel, London Review of Books

"[The Hypochondriacs] is not a book you can't put down. It is a book you will keep putting down, both to absorb what [Dillon] has said and to postpone reaching the end. There is no higher compliment." —Michael Bywater, The Independent

"There is an abundance of 'wracked truth' in this book. It will delight, inform, move and horrify any of the millions of us." —Sam Leith, The Daily Mail

"[An] excellent book." —Kevin Jackson, The Sunday Times (London)
"An intriguing, suavely written blend of medical history and literary criticism, a book that adds to the growing (or metastasizing) field of pathological biography." —Heller McAlpin,
The Los Angeles Times
 "Dillon understands his subjects' motivations and impulses, which makes this book much more than an amusing timeline of worries or a dry and depressing catalogue of ailments. The stories herein aren't happy ones, make no mistake, and the author's compassion leads to a bittersweet affair, and a book that, despite its premise, breathes deeply with perfect health." —Tom Lynch,
New City
 "This deeply fascinating study will turn the reader's eyes inward, to focus on his or her own foibles and compulsions and to wonder what they might really mean."
—Booklist
 "[Dillon] turns up some intriguing facts and trends . . . The cumulative effect of these stories is a surpassing sadness—poor Glenn Gould and others, retreating from a world in which they could not adequately function . . . Sturdy research and subtle analysis of these extreme cases produce some startling insights into human suffering." —
Kirkus Reviews
 "[
The Hypochondriacs
] by Brian Dillon is a short but fascinating study of literary and other celebrated hypochondriacs. These engrossing glimpses of the 'fit unwell' include Charlotte Brontë, James Boswell, Andy Warhol and Marcel Proust (who must surely be the undisputed king of this particular neurotic hill). Written with great elegance and shrewd understanding, it illuminates a condition that probably all of us will suffer from at some time in our lives." —William Boyd,
The Guardian
 "A collection of beautifully crafted medical case histories…This book is greater than the sum of its parts; for as well as individual narratives, what Dillon provides here is nothing less than a history of 'health anxiety' in our culture from the 18th century to the present…The language is fluent and cogent, the story telling economical and deft. This is a superb book about a fascinating subject and one I'd recommend to anyone wanting to understand the function of hypochondria in society past and present." —Carlo Gebler,
The Irish Times
"
There is an abundance of 'wracked truth' in this book. It will delight, inform, move, and horrify any of the millions of us." —Sam Leith,
Daily Mail
(UK) "[An] excellent book." —Kevin Jackson,
The Times
(UK)
or
Not Currently Available for Direct Purchase