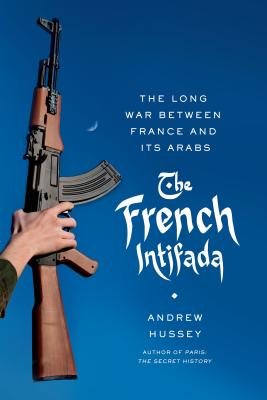 The French Intifada (Hardcover)
The Long War Between France and Its Arabs
Farrar, Straus and Giroux, 9780865479210, 464pp.
Publication Date: April 22, 2014
* Individual store prices may vary.
Description
A provocative rethinking of France's long relationship with the Arab world

To fully understand both the social and political pressures wracking contemporary France—and, indeed, all of Europe—as well as major events from the Arab Spring in the Middle East to the tensions in Mali, Andrew Hussey believes that we have to look beyond the confines of domestic horizons. As much as unemployment, economic stagnation, and social deprivation exacerbate the ongoing turmoil in the banlieues, the root of the problem lies elsewhere: in the continuing fallout from Europe's colonial era.
Combining a fascinating and compulsively readable mix of history, literature, and politics with his years of personal experience visiting the banlieues and countries across the Arab world, especially Algeria, Hussey attempts to make sense of the present situation. In the course of teasing out the myriad interconnections between past and present in Algeria, Morocco, Tunisia, Beirut, and Western Europe, The French Intifada shows that the defining conflict of the twenty-first century will not be between Islam and the West but between two dramatically different experiences of the world—the colonizers and the colonized.
About the Author
Andrew Hussey is the dean of the University of London Institute in Paris, a regular contributor to The Guardian and the New Statesman, and the writer/presenter of several BBC documentaries on French food and art. He is the author of The Game of War: The Life and Death of Guy Debord and Paris: The Secret History. He was awarded an Order of the British Empire in the 2011 New Year's Honours list for services to cultural relations between the United Kingdom and France.
Praise For The French Intifada: The Long War Between France and Its Arabs…
"A bracing mix of journalism and history . . . [The French Intifada] couldn't be more timely." —Mitchell Cohen, The New York Times Book Review
"Uncompromising . . . [a] brilliant book." —Damian Thompson, The Telegraph
"Fascinating and hugely readable . . . Hussey makes a strong case that France's contemporary malaise can only be understood in the light of this tragic history." —Matthew Campbell, The Sunday Times
"Refreshing . . . a good introduction to the most sensitive issues of race, religion, citizenship and history that grip modern France." —Tony Barber, Financial Times
"I admire Andrew Hussey's book because he has had the courage to go where I didn't." —Nick Fraser, The Observer
"Hussey is an engaging guide . . . writing with authority and humour about everything from Zinedine Zidane to architecture. He manages to make what at times is a terrible tale into a fascinating and enjoyable read." —Rob Dex, Irish Examiner
"The French Intifada mixes lively street reportage with the history of two brutal centuries in France's former Maghreb territories . . . This is strong stuff." —Charles Bremner, New Statesman
"In his . . . shockingly violent alternative history of Paris, Andrew Hussey illuminates the city's gutters, stews, slaughters, riots, underbellies, and crimes in the shadowy corners that Balzac relished. The result is . . . a fascinating riot of a book." —Simon Sebag Montefiore, author of Jerusalem on Paris: The Secret History
or
Not Currently Available for Direct Purchase