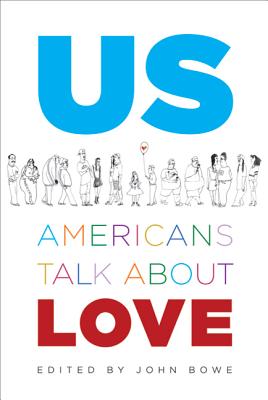 Us (Paperback)
Americans Talk about Love
Faber & Faber, 9780865479296, 424pp.
Publication Date: January 5, 2010
Description
From the wards of New Orleans to the cornfields of Iowa to the slopes of Colorado, from the raves of Los Angeles to the hollows of Appalachia and the canyons of Wall Street, Americans talk about love. Tortured teenagers, free-spirited octogenarians, anxious Navy wives, blue-blooded bohemians, horny-but-chaste pastors, and multiply-partnered cosmopolitans tell extraordinary tales of broken hearts; sexual infidelities; improbable reconciliations; hidden, forbidden, preposterous love; and endurance against all odds. These are America's real love stories--wise and foolish, comic and tragic, full of surprises and straight from the heart.
About the Author
John Bowe has contributed to The New Yorker, GQ, The New York Times Magazine, and This American Life, among others. He is co-editor of Gig: Americans Talk About Their Jobs, co-screenwriter of the film Basquiat, and author of Nobodies, a book on modern American slave labor.
Praise For Us: Americans Talk about Love…
"In Us: Americans Talk About Love, John Bowe uses first-person accounts to uncover the incredible range of human experiences with love . . . No aspect of lust, greed, need or devotion is ignored . . . It is as compelling as literary fiction . . . but it also functions as a kind of self-help manual, forcing readers to examine their own longings, failings and assumptions about love. —Julie Scelfo, The New York Times
"Bowe and his colleagues interviewed people with backgrounds and experiences as wide-ranging as the country is diverse, and whittled those dialogues down to short stories told in the subject's own voice . . . It's a dream book for anyone with a respectable sense of voyeurism." —Ellen McCarthy, Washington Post
"In Us: Americans Talk About Love, author John Bowe presents 44 firsthand stories—hideous, hilarious and ultimately hopeful—from the likes of teenagers, sex workers, Amtrak conductors, immigrants and octogenarians. Every day is Valentine's Day in this profound, touching work of social anthropology." —Los Angeles Times Magazine
"Journalist John Bowe and his coeditors jack us with uncanny directness into the Great American Eros—and in some cases the Id . . . This gaggle of voices from all walks of life will have you giggling, crying, and muttering to yourself in alarmingly rapid succession." —Ben Dickinson, ELLE magazine
"Funny, brutally honest, quirky, devastatingly painful, and hopeful all at the same time. Every story is a small movie I wish someone would make." —Judd Apatow, writer, director and producer of The 40 Year Old Virgin, Knocked Up, and Funny People
"It's interesting reading this volley of love stories. One finds oneself comparing one's own great love to each of these couples, thinking, 'Oh, we're a much better couple than them,' or, 'Gee, they seem to know a few things I don't.'" —Ira Glass, host and producer of This American Life
"A new engrossing book, comprised of compelling interviews with 'average' everyday Americans, all about the great loves of their lives. The book resembles a great work of literary fiction…I opened it up and got sucked right in." —Maura Kelly, MarieClaire.com dating blog
"Unlike the typical anthology filled with essays by familiar authors, Us offers love stories by nonliterary types, told in their own voices . . . Editor John Bowe takes the pulse of American experiences of love won and lost . . . Although Bowe claims to have no special expertise on the subject, he's quite articulate in describing love's endlessly surprising nature. —Carmela Ciuraru, The Christian Science Monitor
"The literary version of a box of chocolates from your sweetheart . . . a Valentine's gift made to last. You could read one short, sharply edited story per day, just as you could pick one chocolate a day from your 2-pound heart-shaped box. But not every tale in this oral history is sugary-sweet . . . Some of them are beautiful. But many of them are painful—even if only with the bittersweet twinge of an unrequited first crush." —Louisville, KY/Southern Indiana Courier-Journal
"[A] novel and fascinating approach to the problem of writing about love." —Glamour.com daily dating blog, "Single-ish"
"I love love, in all its permutations—gritty, glorious, courageous, clumsy, brutal and beautiful. US: Americans Talk About Love is the wisest, frankest, most entertaining book on the subject. The extraordinary stories in these pages illuminate the absurd wonder of the ever-hopeful human heart." —Isabel Gillies, author of Happens Every Day: An All Too True Story
"This amazing book made me think of Walt Whitman, who asked 'Who speaks of miracles? I know of nothing but miracles.' Like the best of Studs Terkel, the detail and power of the voices in these pages remind us that a kind of miracle is unfolding every day, all around us." —Nick Flynn, author of
Another Bullshit Night in Suck City
"[The] stories are amazing. Quirky, moving, despairing, transcendent. Not prisoner to fashion." —NPR's "On Point with Tom Ashbrook"
"Stirring, humorous, altogether addictive." —NBC New York
"Oh good God this book's a dazzler . . . Like the best oral history books . . . Us reads totally unmediated slash natural and, therefore, mildly voyeuristic—you're a few lines into each chapter, each person's individual story, before you realize two things: 1) how much you want to know what happens next, and 2) how unwilling you'd be, if you were just a stranger sitting next to that person, to ask . . . Read it now." —Weston Cutter, Corduroy Books
"If there's an overriding theme to this book, it is of love's enormous power—to push, prod, change, humiliate, thrill and infuriate . . . Taken together, these stories are almost overwhelming in their emotions—betrayal, depression, giddiness, confusion, fury." —Laurie Hertzel, Minneapolis-St. Paul Star-Tribune
"While the more dramatic stories will likely stick with readers longest, plenty of accounts chronicling the deep, gentle bonds of long-lived romance, or the intense burn of young love, strike satisfying chords. Bowe allows each of his subjects the space to tell their stories, and each one proves compelling in itself . . . This hard-to-put-down take on love is surprisingly substantial." —Publishers Weekly, [Starred review]
"Fun and interesting . . . Following the tradition of oral historian Studs Terkel . . . each respondent provides an honest and deeply personal view into the passions and foibles of love … reads like a compilation of short stories." —Library Journal
Advertisement