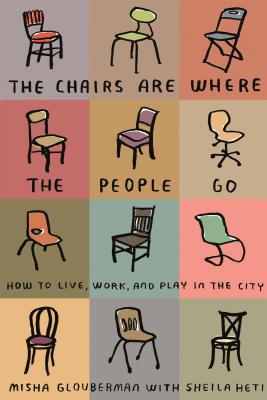 The Chairs Are Where the People Go
How to Live, Work, and Play in the City
Paperback

* Individual store prices may vary.
Description
Should neighborhoods change? Is wearing a suit a good way to quit smoking? Why do people think that if you do one thing, you're against something else? Is monogamy a trick? Why isn't making the city more fun for you and your friends a super-noble political goal? Why does a computer last only three years? How often should you see your parents? How should we behave at parties? Is marriage getting easier? What can spam tell us about the world?

Misha Glouberman's friend and collaborator, Sheila Heti, wanted her next book to be a compilation of everything Misha knew. Together, they made a list of subjects. As Misha talked, Sheila typed. He talked about games, relationships, cities, negotiation, improvisation, Casablanca, conferences, and making friends. His subjects ranged from the sublime to the ridiculous. But sometimes what had seemed trivial began to seem important—and what had seemed important began to seem less so.


The Chairs Are Where the People Go is refreshing, appealing, and kind of profound. It's a self-help book for people who don't feel they need help, and a how-to book that urges you to do things you don't really need to do.
Praise For The Chairs Are Where the People Go: How to Live, Work, and Play in the City…
"A triumph of what might be called conversational philosophy . . . The world is better for these humane and hilarious essays." —The New Yorker

"[A] glorious collection of essays . . . deeply hip and also endearing . . . The general message is collaboration amid density, hilarity despite and with all due respect for (some of) the rules." —Susan Salter Reynolds, The Los Angeles Times

"These plainspoken, idiosyncratic essays . . . coalesce cozily around the patient, earnest, well-intentioned voice of the speaker. . . The platitudes are self-explanatory, but prove so understated as to be frequently hilarious . . . overall, he dispenses the nondidactic wisdom of an avuncular sage." —Publishers Weekly

"The title of this offbeat guide by Canadian improvisation instructor Glouberman is somewhat of a misnomer, as the 72 short chapters actually contain the author's thoughts and opinions about life in general. For instance, he explains why computers last only three years and why wearing a suit is a good way to quit smoking. Glouberman reduces many aspects of socialization to game playing, and advises the reader how to be good at charades, for instance, or how to fight in gibberish. The book is surprisingly entertaining and offers enjoyable browsing." —Library Journal

"A bounty of short, sound advice and commentary from a Canadian improvisational-theatre instructor . . . Transcribing the author's words verbatim produces fresh, pithy perspectives on a wide range of diverse subjects, issues, pleasures and irritants." —Kirkus Reviews

"If you're searching for a gift for that student who is ending her academic career or about to take a job in a strange new city, you could do worse than this modest, idiosyncratic version of an urban survival manual . . . Glouberman is consistently reasonable, self-effacing and creative as he poses at least tentative solutions to these dilemmas, while discoursing on thornier and more abstract subjects, like whether monogamy is a trick or how we might go about creating meaningful ritual to serve a secular society . . . It's pleasant to imagine sharing a coffee with Misha Glouberman in a Toronto café, exploring some of life's recurring mysteries. Until that opportunity presents itself, this book is an admirable substitute." —Shelf Awareness

"An odd and satisfying blend of philosophy, self-help, and, improbably, charade game theory. Misha Glouberman wins you over with a simple and good-spirited reasonableness that leaves you feeling uplifted by the power a voice of common sense can still have in the world. The Chairs Are Where the People Go reads like the wisdom of Benjamin Franklin as told to David Byrne." —JONATHAN GOLDSTEIN, contributing editor to This American Life and author of Lenny Bruce Is Dead

"Sheila Heti is the patron saint of raconteurs. Misha Glouberman is a raconteur. The result is a compendium of riffs on a variety of interesting subjects. Misha stays serious throughout. Sheila stays calm. The result is very funny." —DAVE HICKEY, author of The Invisible Dragon and Air Guitar

"A clever, thoughtful commentary on modern urban life, illuminating everything from how to deal with annoying neighbors to how to run an improv class." —PHILIPP MEYER, author of American Rust

"The book initially seems a series of exercises in studied naiveté. Then Glouberman admits to waking up in the middle of the night with panic attacks about the charades class he's developed and taught for years, and the tone changes. You, too, start to remember the difficulty and the crucial seriousness of impracticality, of relearning unpracticed behavior, and of life itself." —SARAH MANGUSO, author of The Two Kinds of Decay

"This breezy but smart book tells you everything you need to know about how best to play charades, the dilemmas of being an urban activist, how to set up chairs, why wearing a suit might help you give up smoking, and many other things. It lulls you into thinking you've got it sorted out only to suddenly become surprisingly insightful and even moving." —BRIAN EVENSON, author of Altmann's Tongue and Baby Leg

"The ethos that emerges from The Chairs Are Where the People Go -- and I say "emerges" because it is only ever implicit --offers a possible way out of America's inwardly focused mess. Glouberman and Heti never admonish or direct, but as a reader, seeing empathy in practice is helpful and encouraging -- even, and maybe especially, if it's demonstrated through an improv game." —Jessica Gross, The Rumpus

"[The Chairs Are Where the People Go] almost makes me think of Demetri Martin giving up on being a comedian, and becoming a philosopher." —Jason Diamond, Vol. 1 Brooklyn

"The Chairs Are Where The People Go is sort of an Advanced Urban Studies, about the aesthetics of the everyday, and how to get along with everyone else while learning to enjoy yourself more creatively. For someone like me who hates the genre (is it a genre?), it does for self-help books what Moby Dick did for the novel." —Chris Estey, KEXP.org

"But these brief essays -- most are just a page or two long -- pile onto each other in an interesting, even hypnotic fashion (that's Heti's hand at work). As Glouberman explains why he enjoys making actors babble gibberish at each other, and as he lists some of the most difficult charades clues he's ever encountered (including Bob and Carol and Ted and Alice, Guam, and 1984), you start to, grudgingly at first, fall for the guy . . . When you get near the end of Chairs, you realize that all the stories have a common theme: Glouberman is most interested in teaching people how to communicate. That's a decidedly urban goal--cities would not be tolerable places without effective communication?but it's also a beautifully human goal. What Glouberman has learned from teaching and finding compromises and community with his neighbors can be used everywhere, to make life better for everyone. Without the struggle to find food or to simply stay alive, he can focus on bettering the fundamental glue that holds us all together." —Paul Constant, The Stranger

"There is definitely something about Misha Glouberman that makes us want to hang out inside his head for a little while." —Renee Ghert-Zand, The Forward
Farrar, Straus and Giroux, 9780865479456, 192pp.
Publication Date: July 5, 2011
About the Author
Misha Glouberman is a performer, facilitator, and artist who lives in Toronto. She is the author of The Chairs Are Where the People Go: How to Live, Work, and Play in the City.

Sheila Heti is the author of several books of fiction and nonfiction, including How Should a Person Be?, which New York Magazine deemed one of the "New Classics of the 21st century." She was named one of "The New Vanguard" by The New York Times book critics, who, along with a dozen other magazines and newspapers, chose Motherhood as a top book of 2018. Her books have been translated into twenty-one languages.
or
Not Currently Available for Direct Purchase