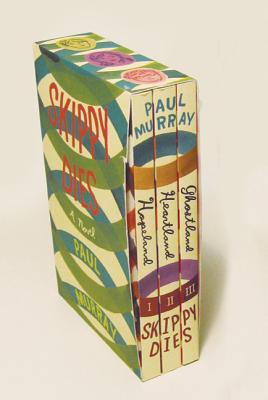 Skippy Dies [3-Volume Boxed Set]
A Novel
Paperback

* Individual store prices may vary.
Other Editions of This Title:
Paperback (8/30/2011)
MP3 CD (10/11/2016)
Paperback (10/1/2010)
MP3 CD (5/29/2012)
MP3 CD (5/29/2012)
Compact Disc (5/29/2012)
Compact Disc (5/29/2012)
Description
Why does Skippy, a fourteen-year-old boy at Dublin's venerable Seabrook College, end up dead on the floor of the local doughnut shop?
Could it have something to do with his friend Ruprecht Van Doren, an overweight genius who is determined to open a portal into a parallel universe using ten-dimensional string theory?
Could it involve Carl, the teenage drug dealer and borderline psychotic who is Skippy's rival in love?
Or could "the Automator"--the ruthless, smooth-talking headmaster intent on modernizing the school--have something to hide?
Why Skippy dies and what happens next is the subject of this dazzling and uproarious novel, unraveling a mystery that links the boys of Seabrook College to their parents and teachers in ways nobody could have imagined. With a cast of characters that ranges from hip-hop-loving fourteen-year-old Eoin "MC Sexecutioner" Flynn to basketball-playing midget Philip Kilfether, packed with questions and answers on everything from Ritalin, to M-theory, to bungee jumping, to the hidden meaning of the poetry of Robert Frost, Skippy Dies is a heartfelt, hilarious portrait of the pain, joy, and occasional beauty of adolescence, and a tragic depiction of a world always happy to sacrifice its weakest members. As the twenty-first century enters its teenage years, this is a breathtaking novel, in this striking three-volume boxed set, from a young writer who will come to define his generation.
Praise For Skippy Dies [3-Volume Boxed Set]: A Novel…
"Extravagantly entertaining . . . One of the great pleasures of this novel is how confidently [Paul Murray] addresses such disparate topics as quantum physics, video games, early-20th-century mysticism, celebrity infatuation, drug dealing, Irish folklore and pornography . . . Six hundred sixty-one pages may seem like a lot to devote to a bunch of flatulence-obsessed kids, but that daunting length is part and parcel of the cause to which Skippy Dies, in the end, is most devoted. Teenagers, though they may not always act like it, are human beings, and their sadness and loneliness (and their triumphs, no matter how temporary) are as momentous as any adult's And novels about them--if they're as smart and funny and touching as Skippy Dies--can be just as long as they like." —Dan Kois, The New York Times Book Review
"Murray's humor and inventiveness never flag. And despite a serious theme--what happens to boys and men when they realize the world isn't the sparkly planetarium they had hoped for--Skippy Dies leaves you feeling hopeful and hungry for life. Just not for doughnuts." —Entertainment Weekly, Grade: A
"Dazzling . . . If killing your protagonist with more than 600 pages to go sounds audacious, it's nothing compared with the literary feats Murray pulls off in this hilarious, moving and wise book . . . It's the Moby Dick of Irish prep schools . . . Murray is an expansive writer, bouncing around in time, tense and point of view. He's unafraid to tempt sentimentality, to write directly at his deep themes, to employ shameless cliffhangers. And he's talented enough to get away with most of it . . . The mixture of tones is the book's true triumph, oscillating the banal with the sublime, the silly with the terrifying, the sweet with the tragic. In short, it's like childhood. In shorter, like life . . . Murray makes the right choices, refusing to spare kid and kidult alike the gorgeous harshness of the world, filled as it is with 'a sadness everyone can recognize, a sadness that is binding and homelike." —Jess Walter, Washington Post Book World
"He really does die. It's in the opening scene. But as Paul Murray's novel backtracks to explain what brought about his death, Skippy is so desperately, painfully alive that you hope the mere act of reading about him will save him . . . Murray balances . . . forces in finely tuned chords of pathos and comedy, a virtuosic display you'd expect from a writer with the confidence to kill of his title character in the title." —Radhika Jones, Time magazine
"[Murray] gets away with almost everything, owing to the strength of his remarkable dialogue, which captures the free-associative, sex-obsessed energy of teen-age conversation in all its coarse, riffing brilliance." —The New Yorker (Briefly Noted)
"This epic page-turner sweeps you along with the heedless gusto of youth." —People magazine
"Deeply funny, deeply weird and unlike anything you've ever encountered before." —NPR.org
"The novel is a triumph . . . Brimful of wit, narrative energy and a real poetry and vision." —Adam Lively, The Sunday Times
"A real joy." —Marie Claire
"One of the most enjoyable, funny and moving reads of this young new year." —Patrick Ness, The Guardian
"An utterly engrossing read." —Elle
"Noisy, hilarious, tragic, and endlessly inventive . . . Murray's writing is just plain brilliant." —Kate Saunders, The Times
"A blast of a book." —Kevin Power, The Irish Times
"Darkly funny and wholly enjoyable . . . Murray will never once lose your attention, writing with wit and charm and making this tragicomedy both hilarious and effortlessly moving." —Very Short List
"A total knockout." —The Christian Science Monitor
"A refreshing break from the simple, bloglike prose of more popular novels . . . A most entertaining book from an excellent writer." —Dallas Morning News
"A great, early fall read . . . Bursting with plot and characters." —San Antonio Express-News
"When I tell you there's a scene towards the end of Paul Murray's Skippy Dies, where I was struggling to maintain my composure while reading on the New York subway, I hope you'll understand just how powerful this novel is. And the fantastic thing is: Just a few hundred pages earlier, I was fighting off a major case of the giggles on an airplane because there's another scene in this book that is hysterically funny, that takes its joke and just keeps turning the dial a little bit further until . . . well, until I was about to explode anyway." —Ron Hogan, Beatrice.com
"A triumph." —Bookforum online
"This novel is going straight to the top of my best books of 2010 list." —Baby Got Books
Farrar, Straus and Giroux, 9780865479487, 672pp.
Publication Date: August 31, 2010
About the Author
Paul Murray was born in 1975. He studied English literature at Trinity College in Dublin and creative writing at the University of East Anglia. His first novel, An Evening of Long Goodbyes, was short-listed for the Whitbread Prize in 2003 and was nominated for the Kerry Irish Fiction Award. Skippy Dies, his second novel, was long-listed for the Booker prize and was a finalist for the National Book Critics Circle Award.
or
Not Currently Available for Direct Purchase