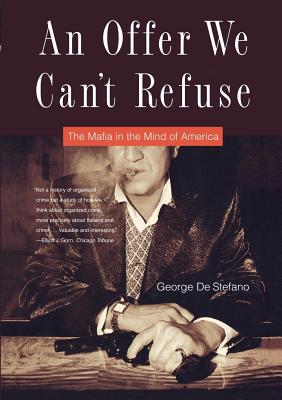 An Offer We Can't Refuse (Paperback)
The Mafia in the Mind of America
Farrar, Straus and Giroux, 9780865479623, 448pp.
Publication Date: January 23, 2007
* Individual store prices may vary.
Description
"Invites Italian-Americans of all backgrounds to the family table to discuss how mob-related movies and television shows have affected the very notion of what their heritage still means in the 21st century." —Allen Barra, The New York Sun

"A detailed, textured meditation. Whether De Stefano is summarizing causes of 19th-century Italian immigration, sketching the Mafia's origin in Sicily, or dissecting the appeal of Hollywood mobster characters, he catches links to evolving capitalism, discomfort with modern society, psychological urges for strong father figures, and other complex topics not usually addressed by opponents of Mafia pop culture. [De Stefano] provokes hard thought about why the Mafia, to the exclusion of almost every other dimension of Italian American life, stays lodged in 'the Mind of America.'" —Carlin Romano, The Philadelphia Inquirer

"Fascinating." —James F. Sweeney, The Plain Dealer (Cleveland)
"Not a history of organized crime but a study of how we think about organized crime, more precisely about Italians and crime. . . Valuable and interesting." —Elliott J. Gorn, Chicago Tribune

"A thoughtful, thorough analysis." —Renee Graham, The Boston Globe
About the Author
George De Stefano is a journalist and critic who has written extensively on culture for numerous publications, including The Nation, Film Comment, and Newsday.
Praise For An Offer We Can't Refuse: The Mafia in the Mind of America…
"Finally, a book that helps to explain America's enduring fascination with the mythology of the Mafia. For anyone who's interested in the subject, An Offer We Can't Refuse is essential reading--thoughtful, informative, entertaining, and most of all, even-handed." —John Turturro