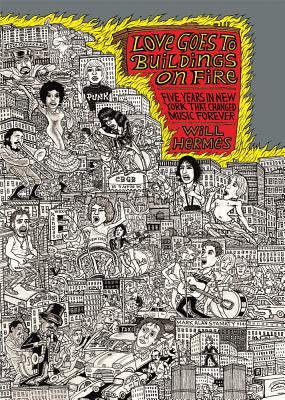 Love Goes to Buildings on Fire
Five Years in New York That Changed Music Forever
Hardcover

* Individual store prices may vary.
Other Editions of This Title:
Digital Audiobook (1/18/2012)
Paperback (9/4/2012)
MP3 CD (2/1/2012)
Compact Disc (2/1/2012)
Compact Disc (2/1/2012)
Description
Punk rock and hip-hop. Disco and salsa. The loft jazz scene and the downtown composers known as Minimalists. In the mid-1970s, New York City was a laboratory where all the major styles of modern music were reinvented--all at once, from one block to the next, by musicians who knew, admired, and borrowed from one another. Crime was everywhere, the government was broke, and the city's infrastructure was collapsing. But rent was cheap, and the possibilities for musical exploration were limitless.
"Love Goes to Buildings on Fire" is the first book to tell the full story of the era's music scenes and the phenomenal and surprising ways they intersected. From New Year's Day 1973 to New Year's Eve 1977, the book moves panoramically from post-Dylan Greenwich Village, to the arson-scarred South Bronx barrios where salsa and hip-hop were created, to the Lower Manhattan lofts where jazz and classical music were reimagined, to ramshackle clubs like CBGBs and The Gallery, where rock and dance music were hot-wired for a new generation. As they remade the music, the musicians at the center of the book invented themselves: Willie Colon and the Fania All-Stars renting Yankee Stadium to take salsa to the masses, New Jersey locals Bruce Springsteen and Patti Smith claiming the jungleland of Manhattan as their own, Grandmaster Flash transforming the turntable into a musical instrument, David Byrne and Talking Heads proving that rock music "ain't no foolin' around." Will Hermes was there--venturing from his native Queens to the small dark rooms where the revolution was taking place--and in "Love Goes to Buildings on Fire" he captures the creativity, drive, and full-out lust for life of the great New York musicians of those years, who knew that the music they were making would change the world.
Praise For Love Goes to Buildings on Fire: Five Years in New York That Changed Music Forever…
"Practically every paragraph about music here is also about something else just as fascinating—race, city planning, ambition, drugs, hair-dos. Braiding intricate research with his own teenage memories, Hermes has a bird's eye view of a great city, and has his ear to the ground."  —Sarah Vowell
"By simply putting things in chronological order, Will Hermes shows just how astonishing New York City's music was in the 1970s. But he does more than that: he brings depth and discernment and an eye for odd detail, making his book an essential work of cultural history." —Luc Sante
"Love Goes to Buildings on Fire is an almost perfect portrait of New York music culture: specific yet comprehensive, enthusiastic yet objective, and as informed as it is personal. The four-page section of what (seemingly) every interesting person in NYC was doing on the night of the '77 blackout could have been a book unto itself." —Chuck Klosterman
"A must-read for any music lover, Love Goes to Buildings on Fire will no doubt inspire nostalgia in readers who lived through the era, and make those who didn't wish they had." —Liz Raftery, The Boston Globe
"Will Hermes grew up in Queens, but Love Goes to Buildings on Fire, his new book on New York's 1970s music scene, is no nostalgia jag—it's a detailed time-machine trip that zooms in on everyone from the New York Dolls to Steve Reich." —Rolling Stone
"Meticulously researched and engaging." —Eric Been, The Wall Street Journal
"I thought there was nothing left to say about the seventies NYC music scene, but Hermes puts it all together—punk, salsa, jazz, hip-hop, disco—into a portrait of a city in ferment, with new bubbles of innovation popping up all over." —Dan Kois, Vulture Recommends (New York magazine)
"Revelatory." —Entertainment Weekly (Grade: A)
"There's no mistaking that this book will have a special appeal for people who were exposed to this music when it was developing—mostly those living in New York in the mid-70s—but Hermes does what a good writer does. He makes the rest of us (this writer included) wish we'd been there." —Georgia Young, Paste
"[Hermes] does an expert turn here in his book about the music scene in 1970s New York, moving between musical genres and the human worlds they contained with the light-headed excitement of a bright grad student who's transferring from one subway line to another." —Emily Carter, Minneapolis Star-Tribune

"[A] breathtaking, panoramic portrait of five years . . . that music in New York City was alive, flourishing, and kicking out the jams." —Publishers Weekly (starred review)
 
"Hermes moves effortlessly back and forth between the various musical genres while interspersing stories of New York at a time when the city was on the verge of financial ruin and moral collapse." —Booklist (starred review)
Faber & Faber, 9780865479807, 384pp.
Publication Date: November 8, 2011
About the Author
Will Hermes is a senior critic for "Rolling Stone" and a longtime contributor to NPR's "All Things Considered." His work also appears in "The New York Times," the "Village Voice," and elsewhere. He was co-editor of "SPIN: 20 Years of Alternative Music" (2005).
or
Not Currently Available for Direct Purchase