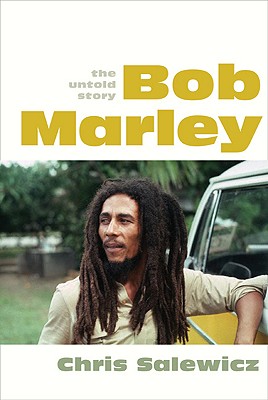 Bob Marley: The Untold Story (Hardcover)
The Untold Story
Faber & Faber, 9780865479999, 432pp.
Publication Date: June 8, 2010
* Individual store prices may vary.
or
Not Currently Available for Direct Purchase
Description
What was it about Bob Marley that made him so popular in a world dominated by rock 'n' roll? How is it that he not only has remained the single most successful reggae artist ever, but also has become a shining beacon of radicalism and peace to generation after generation of fans?
The man who introduced reggae to a worldwide audience, Marley was a hero figure in the classic, mythological sense. From immensely humble beginnings, with talent and religious belief his only weapons, the Jamaican recording artist applied himself with unstinting perseverance to spreading his prophetic musical message across the globe. In 1980, on tour, Bob Marley and the Wailers played to the largest audiences a musical act had ever experienced in Europe. Less than a year later, Marley would die, only thirty-six years old. Sales of Marley's albums before his death were spectacular; in the years since he died, they have been phenomenal.
Chris Salewicz, the bestselling author of "Redemption Song," the classic biography of Joe Strummer, interviewed Bob Marley in Jamaica in 1979. Now, for the first time, in this thorough, detailed account of Marley's life and the world in which he grew up and which he came to dominate, Salewicz brings to life not only the Rastafari religion and the musical scene in Jamaica, but also the spirit of the man himself. Interviews with dozens of people who knew Marley and have never spoken before are woven through the narrative as Salewicz seeks to explain why Marley has become such an enigmatic and heroic figure, loved by millions all over the world.
About the Author
CHRIS SALEWICZ"'"s writing on music and popular culture has appeared in publications around the globe. He is the author of more than a dozen books, including "Redemption" "Song: The Ballad of Joe Strummer "(Faber, 2007).
Praise For Bob Marley: The Untold Story…
"Chris Salewicz's account of the life of the late, great Robert Nesta Marley contains a raft of never-before published interviews with scores of people who knew the reggae singer. Indeed, Salewicz—a respected journalist whose Joe Strummer biography is also well worth a read—got to know Marley in 1979, and it's this authenticity that sets the book apart from other biographies about the man and the legend. From Bob's humble beginnings in Nine Miles to the years in Kingston and the fame, fortune and untimely death in 1981, Bob Marley: The Untold Story is the definitive account of the man and the myth." —Steve Richards, The Independent
"Chris Salewicz, who worked for the NME throughout the 1970s, is well versed in the details of Marley's ascent. What makes his book worth reading, however, is his grasp of Marley's Jamaican background. Salewicz interviewed him in Kingston in 1979 and has clearly spent a lot of time since tracking down friends and relatives, many of whom have not been tapped before . . . [Salewicz] invades and illuminates Marley's privacy more effectively than previous biographers." —Robert Sandall, The Sunday Times (London)
"Chris Salewicz's obvious knowledge . . . delivers the bulk of this literary epitaph on the rasta man. Those insights help the tome along at a reggae beat and, to Salewicz's credit, the reportage is evenly balanced between pro and con, making this an enjoyable, if at times disturbing, read . . . Whatever we know of Bob Marley's life will always remain open to conjecture, but at the very least in Salewicz's biography, we can take a step closer to what went on behind closed doors, in between the pleasure and pain. For Marley/ reggae fans, this work will probably stand the test, whereas for the uninitiated, it will serve as a meaty introduction to the 'legend' of Trench Town." —Teri Louise Kelly, The Independent Weekly (Australia)
Advertisement