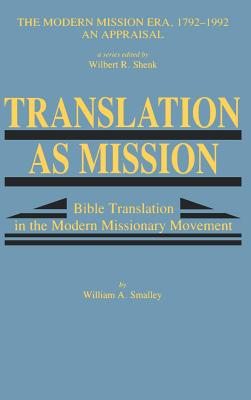 Translation as Mission (Modern Mission Era) (Hardcover)
Mercer University Press, 9780865543898, 304pp.
Publication Date: June 1, 1991
* Individual store prices may vary.
Description
For Christians from New Testament times on, the Bible has almost everywhere been a translated Bible. For eighteen centuries it was normally translated into new languages by native speakers, but with the beginning of the nineteenth century and the modern missionary movement came a burst of missionary translation around the world. As missionary churches were established and as societies worldwide were affected by the gospel, people studied the translations, preached from them, and recounted stories to their children. In many societies these translations were the foundation for Christian communities, for theology (including indigenous theologies), and a powerful stimulus to modernization and even secularization reaching beyond the Christian community.Smalley contends that the theological presuppositions of these missionary translators varied widely. He argues that some missionary translators were insightful scholars who probed deeply into the languages and cultures in which they were working; others were unable to transcend the perspective their own culture prescribed for them. Earlier missionaries did not always have a clearly formulated theory of translation or an understanding of what they were doing and why. Eventually, however, a theoretical model was developed, a model that the majority of translators (both missionary and nonmissionary) now use. Smalley maintains that the task of Bible translation is now passing out of the hands of missionaries and back into the hands of native speakers, casting the missionary translator into significantly changed roles in the translation process.