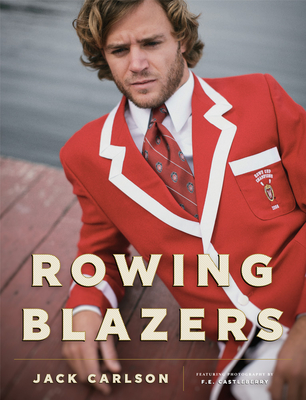 Rowing Blazers (Hardcover)
Vendome Press, 9780865653160
Publication Date: September 2, 2014
* Individual store prices may vary.
About the Author
Jack Carlson, who has raced in the World Rowing Championships and the Oxford-Cambridge Boat Races, won all three of the traditional international rowing regattas in 2013. He is currently a Clarendon Scholar at Oxford University. F.E. Castleberry is an American fashion photographer. His commercial clients include Ralph Lauren, J. McLaughlin, Club Monaco, Elizabeth McKay, and Penfield. His work has been featured in GQ, Women's Wear Daily, and Town & Country, as well as in Preppy: Cultivating Style.
Praise For Rowing Blazers…
"If you haven't done so already, run, don't walk, and get your copy of Rowing Blazers by Jack Carlson, a simply beautiful ode to the halcyon days of rowing teams and their colorful boating attire. This is one book you simply must own!"
"Rowing Blazers by Jack Carlson is a captivating and beautifully illustrated celebration of this eccentric but wonderful tradition."
"Beautiful ... Both a coffee-table tome and a piece of diligent research ... an essential companion to any rower's bookshelves."
"Handsome ... glorious ... Carlson is an affable, elegant guide to the traditions and eccentricities of the rowing fraternity."
"Top 20 best fashion books."
"Lush... Artfully photographed."
"Carlson's book is the perfect addition to your coffee table. Or, if you're like some of the guys in the pages, your stately library."
"Unapologetically cool and crisp."
"Rowing Blazers is a serious book and a thoughtful appreciation of a trade staple."
"Right up there with Take Ivy."
"Jack Carlson's monumental book takes readers inside this extraordinary world, steeped in history and heritage."
"This book appreciates the fashion, history, and the athleticism of rowing and a worldwide community that shares the bond of the blazers."
"These jackets are incredible. Each one embodies not just the sport and the athlete, but also the histories and cultures behind the organizations. . . . Most readers will come away with not only an appreciation of the intriguing images, but with also a strong desire to join a rowing group just for the chance to don its blazer."
"Jack Carlson manages to demonstrate the importance of heritage, a hallmark of great style. . . . If you have a preppy bent, you will love this book. If you row, you will love this book. If you are a fan of all things classic, you will want to own this book."