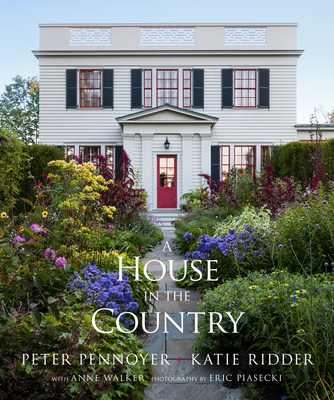 A House in the Country (Hardcover)
Vendome Press, 9780865653290, 224pp.
Publication Date: September 27, 2016
* Individual store prices may vary.
About the Author
Peter Pennoyer's eponymous firm is widely published and recognized for imaginative and elegant designs that draw from history and tradition. The firm is on the AD100 and Pennoyer is the winner of the Veranda Art of Design Award and the Frederic E. Church Award. He is a fellow of the American Institute of Architects and has written and lectured about architecture and style. Peter Pennoyer Architects has projects from Hong Kong to Newport, Rhode Island, and commissions for leading artists and tastemakers across the country.

Katie Ridder has been included in the Top 100 lists of designers for House Beautiful, Elle Décor, and New York magazine. Her firm produces fabrics, wallpaper, and rugs of her design.

Architectural historian and author Anne Walker has collaborated with Peter Pennoyer on four monographs on the history of 20th-century American architecture.
Interiors photographer Eric Piasecki contributes to Elle Décor, Architectural Digest, House Beautiful, and many other publications.
Praise For A House in the Country…
"See how architect Peter Pennoyer and his wife, designer Katie Ridder, created a contemporary home with a classic look in this beautifully illustrated book that offers compelling insights for new architecture."
— Traditional Home
"The house offers a fascinating look at how two people with distinct design outlooks can weave them into a coherent whole. This process is eloquently chronicled in A House in the Country."
— 1stDibs/Introspective
"It's hard to know whether to effuse about [Peter Pennoyer and Katie Ridder's] impeccably elegant and entirely inviting house, or about this impeccably elegant and entirely inviting book about it."

— Andrew Solomon, National Book Award winner
"[Peter Pennoyer and Katie Ridder] have made a mess of my afternoon, since [their] exquisite new book arrived today, and I made the mistake of opening it for a moment before I turned back to my work. An hour later, I was still reading: it was so compelling that my intention of flipping through the pages for a minute turned into a long and thorough reading. I found [their] memoir at the beginning to be absolutely enthralling—it was warm, gracious and full of insight. And the house was not only beautifully photographed, it clearly is beautiful. It is so rare that a serious house gets the documentation it deserves, and its story gets told so fully and so well."
— Paul Goldberger, Pulitzer Prize–winning architectural critic
"When Katie Ridder met Peter Pennoyer, it was an encounter of minds so unalike that the only reasonable outcome was marriage. Ms. Ridder, and interior designer, favors Moroccan textiles and flamboyant color, while Mr. Pennoyer a classical architect, is all white columns, rigor and flow. Together, they built a Greek Revival-style retreat in Millbrook, N.Y., that is more than a sum of their philosophies. In 'A House in the Country,' the building dazzles with purple tiled floors, 19th-century busts arrayed under star-patterned glass and an exterior frieze of dachshunds chasing a rabbit."
— The New York Times
"Architect Peter Pennoyer and designer Katie Ridder's Greek Revival-style house in upstate New York looks like it has stood there for a century. And yet—as told in A House in the Country—it's a newly created classicist's dream, filled with historically apt detailing and set in a garden inspired by England's Sissinghurst, among others."
— Elle Decor