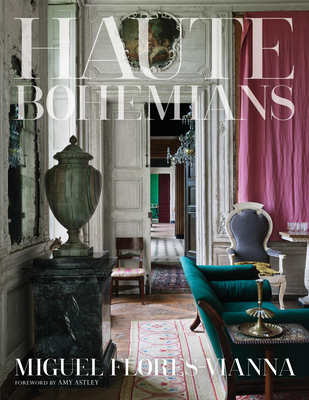 Haute Bohemians (Hardcover)
Vendome Press, 9780865653399, 312pp.
Publication Date: September 26, 2017
* Individual store prices may vary.
About the Author
Born in Argentina, Miguel Flores-Vianna has been an editor, writer, and photographer for more than 25 years. His photographs regularly appear in T, AD, World of Interiors, Vogue, and Town & Country. Until 2015, Flores-Vianna published a popular blog and print feature in T. He lives in London. Amy Astley is the editor of Architectural Digest.

Praise For Haute Bohemians…
"For the past quarter-century, Miguel Flores-Vianna has led the enviable life of an interiors editor and photographer. In his new book, 'Haute Bohemians,' he chronicles the lush and layered homes of the friends and acquaintances he has made along the way."
"With friends around the world, Miguel Flores-Vianna takes us on a tour of artful homes through his camera lens."
"A series of visits to the spaces of some of the world's most esteemed designers, artists and tastemakers. . . . full of soul."
"My dear friend Miguel Flores-Vianna's new book Haute Bohemians is the most gorgeous and inspiring book I've ever seen. His stunning photographs are of houses that are both beyond chic and yet at the same time unbelievably warm and personal. Order it now. You'll be glad you did!!"
"Miguel Flores-Vianna's photographs are more than merely beautiful. They are poetic, instinctively capturing the spirit of place and the essence of lives that are lived within. In his new book, Haute Bohemians, Miguel gives us intimate entree into the homes and gardens belonging to many of the most stylish designers, aesthetes and creative talents around the world."
"Miguel Flores-Vianna has collected some of his work into a big, beautiful book--his first. Called Haute Bohemians, the page-turner zooms in on the perfectly-imperfect, deeply personal homes of Flores-Vianna's friends and acquaintances, captured across four continents."
"Miguel Flores-Vianna, who has been capturing—and elevating—classic bohemian interiors for the pages of international design magazines for years, proves the look timeless in his lush new book 'Haute Bohemians.'"