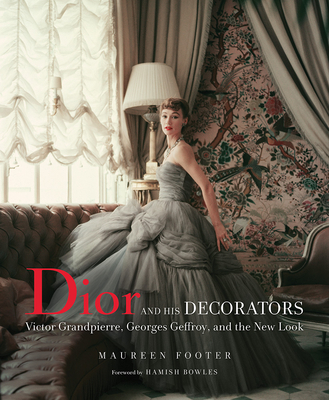 Dior and His Decorators
Victor Grandpierre, Georges Geffroy, and the New Look
Hardcover

* Individual store prices may vary.
Praise For Dior and His Decorators: Victor Grandpierre, Georges Geffroy, and the New Look…
"The first account of how Victor Grandpierre and Georges Geffroy, the duo behind Christian Dior's modern yet traditional interiors, helped the designer create a globally recognized brand."
— Galerie
"To hear Maureen Footer tell it, Paris in the late 1940s mirrors America of late. "Society was polarized, people felt like they were losing their identities, and outside influences threatened what was considered the French way of life," the style historian says on the eve of publishing her new book, Dior and His Decorators: Victor Grandpierre, Georges Geffroy, and the New Look (The Vendome Press, $60). But instead of snarking on Twitter, she continues, couturier Christian Dior and two friends—the charming Grandpierre, a former photographer; the melancholic Geffroy, an ex–fashion designer—went about making French classicism great again, though they stirred in English furniture, Finnish carpets, and Middle Eastern bronzes. The modish result was revolutionary, Footer says, "in a streamlined but cosmopolitan manner that answered, as design often can, the big questions of the time: Who are we? Where are we now? Where are we going?"
— Architectural Digest
"As one of history's most influential couturiers,
Christian Dior
was a man of impeccable taste. So, too, were fashion photographer Victor Grandpierre and designer/man-about-town Georges Geffroy, both of whom helped to translate the ethos of Dior's sartorial New Look for the interiors of his 30, avenue Montaigne atelier, and his townhouse in the 16th arrondissement. (Dior himself had dreamed of studying architecture at the École des Beaux-Arts before being shuttled off to the École Libre des Sciences Politiques by his parents.) Design historian Maureen Footer chronicles how the Enlightenment, Belle Époque, and Empire periods inspired both spaces, effecting a scheme that, with the incorporation of modern elements, felt iconic and inspired rather than tired and fusty."
— VOGUE
"If you're a lover of fashion and interior design, this is one book you should not miss."
— Forbes.com
Vendome Press, 9780865653535, 195pp.
Publication Date: September 25, 2018
About the Author
Maureen Footer is an interior designer and the author of George Stacey and the Creation of American Chic. Hamish Bowles is the European editor at large for American Vogue.