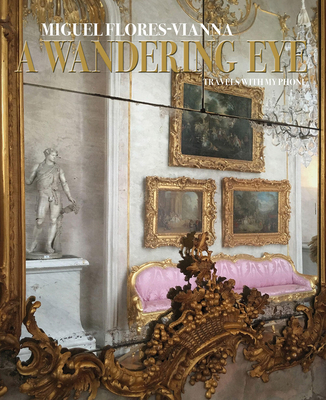 A Wandering Eye (Hardcover)
Vendome Press, 9780865653672, 240pp.
Publication Date: September 24, 2019
* Individual store prices may vary.
About the Author
Miguel Flores-Vianna has been a photographer, writer, and editor for more than 20 years. His first book, Haute Bohemians, was selected as the design book of the year by T: The New York Times Style Magazine. His photography is regularly published in Architectural Digest and Cabana. He lives in London.

Praise For A Wandering Eye…
"Everyone's a photographer now with the invention of the Smartphone. But Miguel Flores-Vianna has raised that ability to shoot from a phone to an art form. He is, after all, an artist."
— Milieu
"A Wandering Eye: Travels with My Phone is out now and every picture is a delicious morsel, and you should go out and buy it. You know how you think all you need is a fancy phone to take transformative images? Well, think again. Miguel proves that whether he's shooting with an iPhone or a Hasselblad, you've gotta have THE EYE. And boy does he have it."
— Whitney Robinson
"Miguel's book is a masterpiece, a game changer, all shot on his iPhone. . . a triumph from the heart."
— Wendy Goodman
"We're long-time fans of Miguel Flores-Vianna—the peripatetic photographer's stunning images always make us swoon. But his new book, A Wandering Eye, comprised entirely of pictures he took with his smartphone completely blew us away."
— The Edit by Schumacher
"Some Instagram feeds are superior to others—and for good reason. Take @miguelfloresvianna, a diary of exquisite houses and ancient sites snapped by Miguel Flores-Vianna. . . more than 1200 of those images, from a friend's home in London to a palace in Turkey, make up his new book. . . which promises too be the season's ultimate escape."
— Architectural Digest
"Not much escapes A Wandering Eye: Travels with My Phone. . . . It's all casual corners and inexhaustible exotica, snapped with Flores-Vianna's iPhone and an unintended primer in how to push the medium."
— Avenue Magazine
"Immersive, whimsical, and filled with personal tidbits from roaming the globe, the tome captures tucked-away scenes from the Canary Islands to Marrakech, Greece, Egypt, and beyond. . . . The end result is revealing, often stunning."
— Ralph Lauren magazine