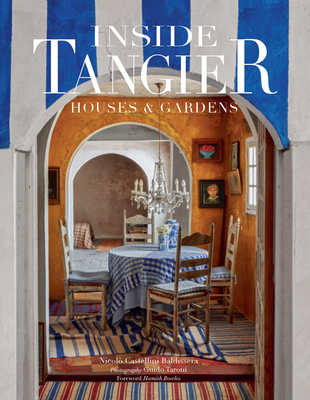 Inside Tangier (Hardcover)
House and Gardens of Tangier
Vendome Press, 9780865653702, 360pp.
Publication Date: September 17, 2019
* Individual store prices may vary.
About the Author
Nicolò Castellini Baldissera is the great-grandson of renowned Italian architect Piero Portaluppi and an accomplished architect and interior designer in his own right. Based in London, he has had a home in Tangier for over a decade. Photographer Guido Taroni has collaborated with some of the most important fashion houses and contributed to leading fashion and interior design magazines. He lives in Milan.

Praise For Inside Tangier: House and Gardens of Tangier…
"It's the Moroccan city that has long attracted a bohemian class of folk from Europe and America. . . . This volume looks at some of the city's more recent inhabitants. . . . Readers learn fast while the city remains alluring."
— Milieu
"An enthralling new book looks inside the most stylish homes of Tangier."
— VOGUE.com
"The homes, gardens, and rooms documented are mouthwateringly beautiful. . . . All make you desperate to be friends with these chic designers, and all convince you that the joy many get just from walking the streets of Tangier is a blissful ignorance as they'll rarely get to see the kaleidoscopic wonders arrayed being the often simple street doors."
— The Daily Beast
"Baldissera, a renowned interior designer and Tangier transplant, takes us on a tour of the most beautiful homes in this Moroccan city in his lavish and delicious book."
— Forbes.com