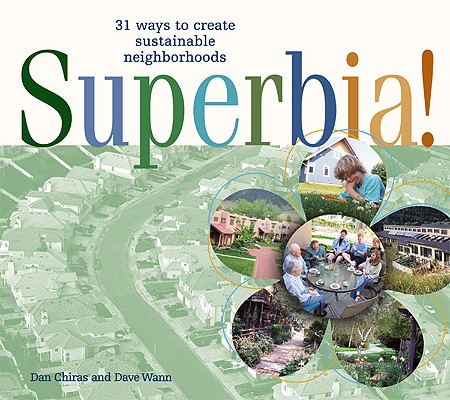 Superbia! (Paperback)
31 Ways to Create Sustainable Neighborhoods
New Society Publishers, 9780865714908, 229pp.
Publication Date: November 1, 2003
* Individual store prices may vary.
Description
"Superbia " is a book of practical ideas for creating more socially, economically, and environmentally sustainable neighborhoods. It is about remaking suburban and urban neighborhoods to serve people better and to reduce human impact on the environment.
The authors first trace the history of the suburbs, showing how they fail to meet many peoples needs. They then describe how existing neighborhoods can be transformed, offering cohousing and new urbanist communities as examples. The reader is then guided through the transformation of a fictitious neighborhood that adopts the authors thirty-one steps. Ideas for the blossoming of the suburb are described in order of difficulty, from easy to boldest, including:

the creation of a neighborhood newsletter to foster a sense of neighborhood identity and cooperation
regular community dinners, discussion groups, and baby-sitting co-ops
the removal of backyard fences to create park-like spaces for community play areas, or gardens
retrofitting homes for energy efficiency, and installing community energy systems.
Examples from all over North America and beyond provide real-life proof that citizen planners can create Superbia And the most comprehensive resource listing imaginable puts all the tools needed at your fingertips.
Well-illustrated and reader-friendly, "Superbia " is written primarily for the millions who live in urban areas or existing suburbs. It will also be of major interest to environmentalists, planners, and all who want to create a more humane and nurturing lifestyle.
Dan Chiras is the author of nineteen books including "The Natural Plaster Book" (New Society Publishers, 2003) and over 200 articles, a contributing editor to "Mother Earth News," and an adjunct professor at Colorado College.
Dave Wann has produced six video programs on community, is coauthor of "Affluenza: The All-Consuming Epidemic" and two other books about design. Both live in Colorado.
About the Author
Dan Chiras is an internationally acclaimed author who has published over 24 books, including The Homeowner's Guide to Renewable Energy. He is a certified wind site assessor and has installed several residential wind systems. Dan lives in a passive solar home in Evergreen, Colorado.
or
Not Currently Available for Direct Purchase