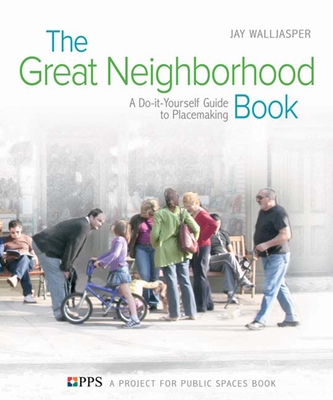 The Great Neighborhood Book
A Do-It-Yourself Guide to Placemaking
Paperback

* Individual store prices may vary.
Description
Abandoned lots and litter-strewn pathways, or rows of green beans and pockets of wildflowers? Graffiti-marked walls and desolate bus stops, or shady refuges and comfortable seating? What transforms a dingy, inhospitable area into a dynamic gathering place? How do individuals take back their neighborhood?
Neighborhoods decline when the people who live there lose their connection and no longer feel part of their community. Recapturing that sense of belonging and pride of place can be as simple as planting a civic garden or placing some benches in a park.
The Great Neighborhood Book explains how most struggling communities can be revived, not by vast infusions of cash, not by government, but by the people who live there. The author addresses such challenges as traffic control, crime, comfort and safety, and developing economic vitality. Using a technique called "placemaking"--the process of transforming public space--this exciting guide offers inspiring real-life examples that show the magic that happens when individuals take small steps and motivate others to make change.
This book will motivate not only neighborhood activists and concerned citizens but also urban planners, developers, and policymakers.
Jay Walljasper is a senior fellow of Project for Public Spaces (PPS), whose mission is to create and sustain enriching public places that build communities. He is a former editor of The Utne Reader and currently executive editor of Ode magazine. Inspired by European cities, The Great Neighborhood Book highlights practical solutions for the revitalization of North American cities.
New Society Publishers, 9780865715813, 175pp.
Publication Date: June 1, 2007
About the Author
Project for Public Spaces (PPS) has worked for 30 years in over 1,500 communities in 47 states and 24 countries to create and sustain public places that build communities. PPS was founded to build upon the pioneering Street Life Project of writer-sociologist William H. Whyte, and has published over 14 books and studies.
or
Not Currently Available for Direct Purchase