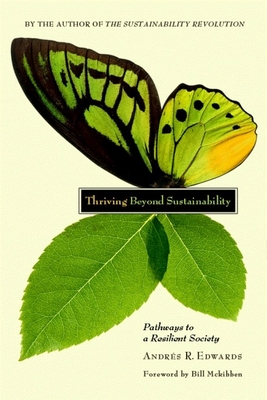 Thriving Beyond Sustainability: Pathways to a Resilient Society (Paperback)
Pathways to a Resilient Society
New Society Publishers, 9780865716414, 226pp.
Publication Date: May 1, 2010
Description
Every fifteen seconds on our Earth, a child dies from waterborne disease. Three times an hour, another species becomes extinct. Each day we consume eighty-five million barrels of oil and pump twenty-three million tons of carbon dioxide into an already warming atmosphere. But against this bleak backdrop, beacons of hope shine from thousands of large and small initiatives taking place everywhere from isolated villages to major urban centers.
Thriving Beyond Sustainability draws a collective map of individuals, organizations, and communities from around the world that are committed to building an alternative future--one that strives to restore ecological health; reinvent outmoded institutions; and rejuvenate our environmental, social, and economic systems. The projects and initiatives profiled are meeting the challenges of the day with optimism, hope, and results, leading the way in:
Relocalization
Green commerce
Ecological design
Environmental conservation
Social transformation
Overflowing with inspiration, the stories and ideas in these pages will cause the most chronic pessimist to see the glass as half full--to move beyond a perception of surviving with scarcity to one of flourishing with abundance. The comprehensive resource section provides the tools for everyone to become a catalyst for change.
Andres R. Edwards is the author of The Sustainability Revolution, which has sold over twenty thousand copies. He is an educator, media designer, LEED-accredited green building and sustainability consultant, and the founder of EduTracks, a firm specializing in developing education programs and providing consulting services on sustainable practices.
Gold Medal Winner, 2011 Living Now Book Awards, Social Activism.
About the Author
Andres R. Edwards is an educator, author, media designer and environmental systems consultant who has specialized in sustainability topics for the past 15 years. The founder and president of EduTracks, an exhibit design and fabrication firm specializing in green building and sustainable education programs for parks, towns and companies, he lives in Northern California.
Praise For Thriving Beyond Sustainability: Pathways to a Resilient Society…
An inventory of grounded hope, practical inspiration, and achievable visions; exactly the kind of thinking, work, and doing that will bring civilization to safe harbor. - David W. Orr, author of Down to the Wire

Andres Edwards is a walking database of information on efforts to create sustainable societies, and his enthusiasm for the promise of sustainability is infectious. - Gary Gardner, Senior Researcher, Worldwatch Institute

Thoroughly researched, deeply contemplated, and yet eminently practical. I warmly recommend it to anyone concerned about the future of human civilization. - Fritjof Capra, author of The Web of Life and The Hidden Connections

This is a beautifully written and eloquent plea for us to wake up to our potential and begin to exercise our natural talent for survival. An extensive resource list at the end provides a wealth of references for further research. This volume is written in a spirit of hope and promise that, if we are willing to follow a fairly simple and direct path, we indeed have hope for a viable future. - Journal of Sustainability Education
Advertisement