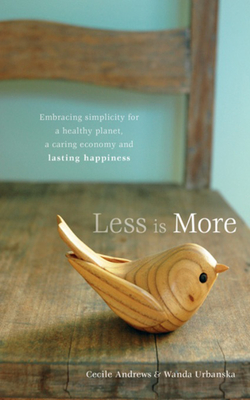 Less Is More (Paperback)
Embracing Simplicity for a Healthy Planet, a Caring Economy and Lasting Happiness
New Society Publishers, 9780865716506, 288pp.
Publication Date: September 1, 2009
* Individual store prices may vary.
Description
"it is a series of hard-hitting essays by a diverse collection of writers that wraps its arms around everything from simplicity to climate change to economic metrics to happiness. I approached each chapter (each new writer) with skepticism and a willingness to put the book down, and I found my self delighted time after time. This is a book anyone would be glad to have on their shlf." - Lyle Estill
"Here is a book with its roots in the earth that can move you to new places, stimulate ideas and encourage change. Less is More will show you how to divest gradually, to live more in the present moment, while still paying attention to technology, health, politics and the environment. Simplicity is not a turning away. It is a rejoining." Barbara Bamberger Scott
"The anthology's true strength comes in the diversity of its voices - which include not only journalists and activists, but also businesspeople and ministers. Less is More will serve as an informative and inspiring primer." - Ryan Williams, ForeWord Magazine
"Andrews and Urbanska are masterful in their prose and their ability to bring together an eclectic array of writers, thinkers and sustainability adovcates who live in ways that echo what they write about. " John Ivanko
"No good idea stays local for long," writes Jay Walljaspsr in Less is More, a smart collection of essays that chant the simplicity mantra without oversimpifying the issues at stake. Many of these ideas seem bound to travel far." - Utne Reader
"I am both educated and inspired by the writings in Less is More. Living simply, like finding the heart, is the work of a lifetime. It is not easy to get there, but it provides a life of ease once the goal is reached. This book is a wonderful contribution to reorienting our lives away from the alienating influences of our shame-inducing consumer culture back toward what is really important: the choice to care for ourselves, others and the planet in a simple, loving way." - Glenn Berger, PhD, glennbergerblog
People are afraid and anxious. We're destroying the planet, undermining happiness, and clinging to an unsustainable economy. Our obsessive pursuit of wealth isn't working.
But there's another way. Less can be More. Throughout history wise people have argued that we need to live more simply--that only by limiting outer wealth can we have inner wealth. Less is More is a compelling collection of essays by people who have been writing about simplicity for decades. They bring us a new vision of Less: less stuff, less work, less stress, less debt. A life with Less becomes a life of More: more time, more satisfaction, more balance, and more security.
When we have too much, we savor nothing. When we choose less, we regain our life and can think and feel deeply. Ultimately, a life of less connects us with one true source of happiness: being part of a caring community. Less is More shows how to turn individual change into a movement that leads to policy changes in government and corporate behavior, work hours, the wealth gap, and sustainability. It will appeal to those who want to take back their lives, their planet, and their well-being.
Cecile Andrews is the author of Circle of Simplicity and Slow is Beautiful and cofounder of Phinney EcoVillage. She has her doctorate in education from Stanford.
Wanda Urbanska is producer and host of Simple Living with Wanda Urbanska. She is author or co-author of numerous books, including Simple Living and Nothing's Too Small to Make a Difference.
About the Author
Cecile Andrews is a community educator, author of Circle of Simplicity, and contributor to several books on living more simply and taking back our time. She has a doctorate from Stanford and teaches at Seattle University. She and her husband are founders of Seattle's Phinney Ecovillage, a neighborhood-based sustainable community. Wanda Urbanska is a Harvard graduate whose life's work has involved living simply. She is the President of Simple Living Company, www.simplelivingtv.net, the producer/host of Simple Living with Wanda Urbanska, and the author of three books on the subject. She lives in Mount Airy, North Carolina.
Praise For Less Is More: Embracing Simplicity for a Healthy Planet, a Caring Economy and Lasting Happiness…
I picked up a book by Cecile Andrews and Wanda Urbanska. Its collection of essays focus on simplicity", but they are (as our British friends would say) spot on about the inner journey of Transition. I strongly recommend this book as a part of Transition literature. Less is More reminds us that the inner goal is knowing who you are, being clear about your values, understanding what brings true well-being." - Joanne Poyourow, Transition US