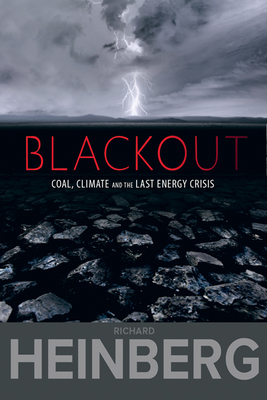 Blackout
Coal, Climate and the Last Energy Crisis
Paperback

* Individual store prices may vary.
Description
Blackout is an important and timely book. In the form of this compact volume, one of the best and most productive peak oil authors working today has turned his customary scholarhsip, wisdom, wit and writing prowess to some of the most ciritical issues now unfolding on our planet. - Frank Kaminski, Energy Bulletin
Coal fuels about 50% of US electricity production and provides a quarter of the country's total energy. China and India's ferocious economic growth is based on coal-generated electricity. Coal currently looks like a solution to many of our fast-growing energy problems. However, while coal advocates are urging full steam ahead, increasing reliance on the dirtiest of all fossil fuels has crucial implications for climate science, energy policy, the world economy, and geopolitics. Drawbacks to a coal-based energy strategy include:
Scarcity--new studies prove that the peak of usable coal production may actually be less than two decades away.
Cost--the quality of produced coal is declining, while the expense of transport is rising, leading to spiralling costs and potential shortages.
Climate impacts--our ability to deal with the historic challenge of climate change may hinge on reducing our coal consumption in future years. Blackout goes to the heart of the tough energy questions that will dominate every sphere of public policy throughout the first half of this century, and it is a must-read for planners, educators, and anyone concerned about energy consumption, peak oil, and climate change. Richard Heinberg is a journalist, editor, lecturer, and senior fellow of the Post Carbon Institute. He is one of the world's foremost peak oil educators and the award-winning author of seven previous books, including Peak Everything and The Party's Over.
New Society Publishers, 9780865716568, 201pp.
Publication Date: July 1, 2009
About the Author
Richard Heinberg is widely acknowledged as one of the world's foremost Peak Oil educators. A journalist, editor, lecturer, and Senior Fellow of the Post Carbon Institute, he is the award-winning author of seven previous books including Peak Everything, The Party's Over, and Powerdown. Richard has appeared in many documentaries (including The 11th Hour) and national radio and television programs.
or
Not Currently Available for Direct Purchase