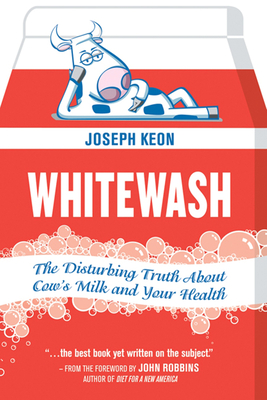 Whitewash
The Disturbing Truth about Cow's Milk and Your Health
Paperback

* Individual store prices may vary.
Description
2011 Silver Medalist, Independent Publisher Book Awards
2011 Winner, "Book of the Year" VegNews Veggie Awards
North Americans are some of the least healthy people on Earth. Despite advanced medical care and one of the highest standards of living in the world, one in three Americans will be diagnosed with cancer in their lifetime, and 50 percent of US children are overweight.
This crisis in personal health is largely the result of chronically poor dietary and lifestyle choices. In Whitewash, nutritionist Joseph Keon unveils how North Americans unwittingly sabotage their health every day by drinking milk, and he shows that our obsession with calcium is unwarranted.
Citing scientific literature, Whitewash builds an unassailable case that not only is milk unnecessary for human health, its inclusion in the diet may increase the risk of serious diseases including:


Prostate, breast, and ovarian cancers

Osteoporosis

Diabetes

Vascular disease

Crohn's disease
Many of America's dairy herds contain sick and immunocompromised animals whose tainted milk regularly makes it to market. Cow's milk is also a sink for environmental contaminants and has been found to contain traces of pesticides, dioxins, PCBs, rocket fuel, and even radioactive isotopes.
Whitewash offers a completely fresh, candid, and comprehensively documented look behind dairy's deceptively green pastures and gives readers a hopeful picture of life after milk.
Joseph Keon has been a wellness consultant and nutrition and fitness expert for over twenty-five years. He is considered a leading authority on public health and has written three books, including Whole Health: The Guide to Wellness of Body and Mind and The Truth About Breast Cancer.

Praise For Whitewash: The Disturbing Truth about Cow's Milk and Your Health…
I highly recommend this book as it is easy to read yet thought-provoking, controversial but well-researched and literally a life-saver!
-Green Eatz

Human beings need to learn what all other animals instinctively know: milk is for infants. Despite the fact that allergies, disease, and obesity can all be linked to our obsession with cow¹s milk, we have bought the milk lobby¹s fable ¬hook, line and sinker. Dr. Keon¹s scrupulous research and meticulous documentation will wipe those sinister milk mustaches off all the smirking dairy execs. Whitewash is nothing less than a lifesaver.
- Rory Freedman, author, Skinny Bitch

Whitewash is the book vegans have been waiting for, and the one book the dairy industry would most want you not to read. With meticulous references and a passion for his subject, Joseph Keon has written a book packed with vital information and invaluable resources. It is easy to read and backed by science. The author has done a superb job in revealing the most effective and expensive propaganda campaign in U.S. history.
Patti Breitman, co-author of How to Say No Without Feeling Guilty and Director, Marin Vegetarian Education Group.

In my medical practice, I have watched children with eczema, allergies, ear infections and chronic upper respiratory congestion lose most or all of their symptoms when they stopped drinking cow's milk. And whole cow's milk is also the food most to blame for the huge increase in obesity in America's children. Read this excellent, well-researched book and don't drink your milk!
- Jay N. Gordon, MD, FAAP, Assistant Professor of Pediatrics, UCLA Medical School

Joseph Keon's Whitewash is another authoritative and well-referenced nail in the cow milk coffin. Having discovered firsthand the adverse effects of milk in much the same way as the Dr. Keon, I can say that without relentless taxpayer-funded USDA support, shameless advertising (with IRS tax deductions for same), milk products would finally stand exposed only as an expensive way to make yourself sick.
- William Harris, M.D. Author of The Scientific Basis of Vegetarianism

There is too much in Whitewash to discuss here in any detail, suffice to say every vegan should read it to reinforce what they already know: cow milk should not play any part in a healthy human diet. Then they need to pass it on to or buy it for all those friends and relations who insist on the goodness and importance of cow milk. I defy anyone to read this book and keep on drinking the stuff.
--Vegan Voice

From the foreword: I might be one of the last people you would expect to find questioning the value of dairy products for human health. Not that this is an easy question for most people. The assumption that dairy products are wonderful foods prevails throughout our culture with amazing tenacity. But in my family of origin, this assumption was held with a steadfastness that was virtually religious.

There was a reason. My father founded, owned and ran what became the world's largest ice cream company --- Baskin-Robbins. Our house included a commercial-sized freezer with each of the 31 flavors, one for each day of the month. By the time I was 21, my father had manufactured and sold more ice cream than any human being who had ever lived on the planet. And he groomed me, his only son, to succeed him. It was his plan that I would follow in his footsteps.

So what am I doing writing a foreword for a book titled Whitewash: The Disturbing Truth About Cow's Milk And Your Health? It turned out that I didn't follow my father's plan, but instead walked away from the company and the money it represented to become an advocate for a healthy and compassionate way of life. And that brings me to this marvelous book by Joseph Keon.

Because if you are looking for the truth about dairy products and your health, if you are wanting to understand what scientific research has actually shown, this book is an immensely helpful resource. I consider it, in fact, the best book yet written on the subject. - John Robbins, author of Diet for a New America
New Society Publishers, 9780865716766, 319pp.
Publication Date: November 23, 2010