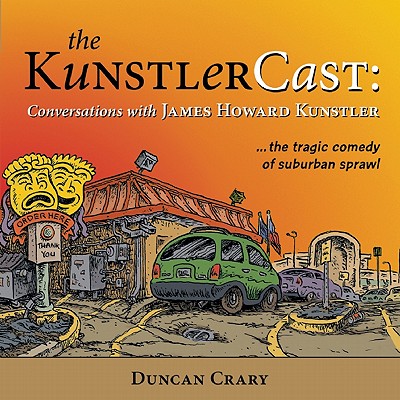 The KunstlerCast
Conversations with James Howard Kunstler
Paperback

* Individual store prices may vary.
Description
James Howard Kunstler has been described as "one of the most outrageous commentators on the American built environment." An outspoken critic of suburban sprawl, Kunstler is often controversial and always provocative. "The KunstlerCast "is based on the popular weekly podcast of the same name, which features Kunstler in dialogue with author Duncan Crary, offering a personal window into Kunstler's world view.
Presented as a long-form conversational interview, "The KunstlerCast" revisits and updates all the major ideas contained in Kunstler's body of work, including: The need to rethink current sources of transportation and energyThe failure of urban planning, architecture, and industrial societyAmerica's plastic, dysfunctional cultureThe reality of Peak Oil
Whether sitting in the studio, strolling city streets, visiting a suburban mall, or even "happy motoring," Kunstler's grim predictions Kunstler makes about America's prospects are leavened by his signature sharp wit and humor. This book is rounded out by commentary, footnotes, and supplemental vignettes told from the perspective of an "embedded" reporter on the Kunstler beat.
Readers may or may not agree with the more dystopian of Kunstler's visions. Regardless, "The KunstlerCast" is bound to inspire a great deal of thought, laugher, and, hopefully, action.
Duncan Crary is a journalist, editor, independent communications specialist, and new media consultant. He is the host and producer of The KunstlerCast, a popular weekly podcast featuring James Howard Kunstler (author of "The Geography of Nowhere," "The Long Emergency," and "World Made By Hand").
Praise For The KunstlerCast: Conversations with James Howard Kunstler…
Online to On Paper - Review by Greg Fry, Spotlight News, November 14th 2011

Each week, Duncan Crary and James Howard Kunstler take to the web to talk about the world, and what's to come in communities across America.

Crary has taken those insightful and sometimes unconventional conversations and turned them into a new book. The KunstlerCast: Conversations with James Howard KunstlerThe Tragic Comedy of Suburban Sprawl" is a collection of more than 100 hours of recorded conversations with Kunstler over a span of four years that have turned into a popular podcast and radio show.

We're in uncharted territory as far as media consumption and the book industry in general," Crary said. I think maybe this book is a nice example of how different media can compliment each other."

Kunstler is a nationally known author, commentator and lecturer who travels around the country to offer his thoughts and analysis on issues related to suburban sprawl and the development of everything from shopping centers to housing in suburban areas. Crary first spoke with Kunstler, a resident of Saratoga Springs, while he was a reporter for The Spotlight. Their relationship continued as Crary's career took off.

I continued to interview him as a reporter for every newspaper or magazine I went on to work for," Crary said. I always felt like he had so much more to say, and there's only so much you can fit into a clever sound byte."
The two linked up for the podcast, which attracts 10,000 listeners each week, according to Crary. The relationship is one that meshes two distinct personalities. Crary described Kunstler as a snarky, curmudgeonly, witty critic and commentator," while admitting that he has been accused of being a smirking, satirical sidekick on the podcast.

By the time their conversations are completed, the two have tackled issues facing communities across the nation, while taking in the problems facing the country with a grain of salt.

Part of it is being able to laugh at ourselves, and some of the pain we cause ourselves," said Crary. When I laugh at these things, I'm not trying to come off as feeling superior. I understand why people make the choice to live in suburbia. There are a lot of reasons. I've heard them all, and some of them are compelling. But, you've got to be able to laugh at the fiasco we've gotten ourselves into right now as a country and a culture."

The shows, which are the basis for the book, are filled with discussions of topics as global as the consumption of fossil fuels and as local as the growth of towns and cities. Crary contends that there is more interest these days in talking about the important issues.

People are getting more concerned about the quality of the buildings and the businesses in their town, because the price of gas is getting more expensive, and the price of everything is getting more expensive," said Crary. People are getting laid off and they're worried that they are going to be trapped in some neighborhood or environment where they can't access anything to function in their daily lives."

During their shows, Crary and Kunstler use issues facing the Capital District as a basis for their conversations, but find a way to attract a national audience that finds similarities in their own communities.

I wanted to take the essential conversations that I've had with Jim over the years and present them in a book form to reach a larger audience," said Crary.
More information about Crary's book and the weekly podcast can be found at kunstlercast.com.



The KunstlerCast: Conversations with James Howard Kunstler Review by Alan David Doane, the ADD blog, November 9th 2011

I am jealous of hell of author Duncan Crary. Might as well admit it right up front.

In my 25 years in radio, I interviewed Jim Kunstler maybe a dozen times, usually short chats to get a sound bite for a news story about local development issues in the Albany/Saratoga Springs/Glens Falls, New York area that I spent my entire radio career broadcasting in and around. A couple of times I did longer interviews with Kunstler, the author of a number of brilliant books about culture and cultural collapse, including the non-fiction landmarks The Geography of Nowhere and The Long Emergency, and a pair of hugely entertaining and thought-provoking novels, World Made by Hand and The Witch of Hebron. A year ago, I profiled his appearance at a local book fair. I admit it, I enjoy reading Kunstler's writing, and I enjoy picking his brain every chance I get. But Crary is the visionary broadcaster who got the idea to sit down with him week-in and week-out for a wildly entertaining and informative podcast, The KunstlerCast.

In Crary's deceptively compact new book of the same name, you'll find the ultimate primer to everything Kunstler, as the author has mined scores of the duo's podcasts to create an indispensable document of James Howard Kunstler's personal history, philosophy, observations and predictions.

Crary doesn't put on kid gloves in their interviews, for example tackling head-on the popular perception that Kunstler was wrong about Y2K (he wasn't; it could have been a global catastrophe, but because it was a comprehensible, solvable problem, the disaster was averted). There are even a few passages where the pair don't seem quite simpatico on some issue or other, and Kunstler's bristling fairly electrifies the page. He's a crusty curmudgeon, as readers of his weekly Clusterfuck Nation blog no doubt are aware, but Kunstler's sharp edges are greatly mitigated by the fact that he is a blunt, no-bullshit observer of our times and our culture, and the book nicely encapsulates just why I've held JHK in very high esteem over the past couple of decades.

Readers new to Kunstler will come away with a much better picture of his place in our culture. He is frequently dismissed as a doom-and-gloom naysayer," but it's impossible to come away from these discussions with Crary without understanding in full that Kunstler believes once we get past the long emergency we are now fully engaged in, we could come out of it on the other side with a better world, operating at a more human scale, with smarter priorities and strategies for living. In fact, we have no choice, if the human race is to continue. The Happy Motoring Era, as Kunstler calls the past century-plus of cheap energy and cheaper lifestyles, is now racing so quickly to its conclusion that we are all dizzy from the ride and no longer able to deny that we see where this is all going. There can be imagined no better map and guide than The KunstlerCast book. Stick one in your go-bag and take it on the road with you in your inevitable post-apocalyptic trek through the wasteland that was once America. Let it keep you company as you Occupy your hometown. Put it on the shelves with the rest of your intelligent, forward-looking and wickedly funny books. But whatever you do, buy it and read it. You're lost without it.
New Society Publishers, 9780865716933, 300pp.
Publication Date: November 15, 2011
About the Author
Duncan Crary is a journalist, editor, independent communications specialist and new media consultant. The host and producer of The KunstlerCast, a popular weekly podcast featuring James Howard Kunstler (author of "The Geography of Nowhere," "The Long Emergency," and "World Made By Hand"), Crary has recorded face-to-face podcast interviews with dozens of noted authors, including: Sir Salman Rushdie, Christopher Hitchens and E.O. Wilson.
or
Not Currently Available for Direct Purchase