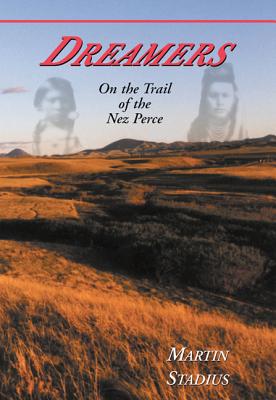 Dreamers: On the Trail of the Nez Perce (Hardcover)
On the Trail of the Nez Perce
Caxton Press, 9780870043932, 437pp.
Publication Date: January 1, 1999
* Individual store prices may vary.
or
Not Currently Available for Direct Purchase
Description
"Distributed by the University of Nebraska Press for Caxton Press"
Stadius tells the story of the Nez Perce people, the Nee-Me-Poo. In 1877, the "Dreamer" (non-Christian) faction of the tribe, under pressure from land-hungry whites to move to a reservation, fled their homeland in eastern Oregon and central Idaho. The Nee-Me-Poo led pursuing troops on a four-month, 1,100-mile chase that ended tragically only forty miles short of Canada. Today, the route of the Nee-Me-Poo retreat is a National Historic Trail, part of the Nez Perce National Historical Park, with sites in four Western states.
About the Author
Martin Stadius is a native of the West with more than twenty years experience in the book business and lives in Portland, Oregon. He began his study of the Nez Perce war in 1992, after reading about the new National Historic Trail, and visiting White Bird, where the first battle of the conflict was fought.
Praise For Dreamers: On the Trail of the Nez Perce…
"A remarkable personal quest. Martin Stadius sets off to truly tell the story of the Nez Perce, the Real People. He follows the trail through the archives and over every mile of their odyssey, a journey both exhilarating and heartbreaking. This is blue-highways, tramp-the-weeds history at its best."—Elliott West, Professor of Native American Studies, Univ. of Arkansas
-Elliott West

"Martin Stadius gives the reader a vivid account of the feelings he got while traveling the rugged 1,200 mile retreat route taken by Chief Joseph and his people over terrain which remains little changed today. For anyone interested in the incredible saga of the flight toward freedom by the courageous Nez Perce, this is a "must-read" book."—Bill Gulick, author of Chief Joseph Country
-Bill Gulick

"Stadius'' writing style is arresting, as he splices together historical events with his travels along the Nez Perce National Historic Trail. . . Dreamers is an important book, if only to help us understand another part of the Pacific Northwest''s history. Though studius and research-filled, Dreamers does not read like a dry, dusty textbook. Instead it brings alive an important and tragic chapter of our region''s past."—Tri-City Herald
Advertisement