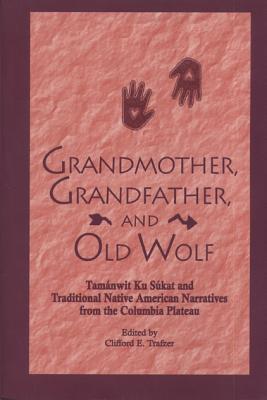 Grandmother, Grandfather, and Old Wolf (Paperback)
Tamanwit Ku Sukat and Traditional Native American Stories from the Columbian Plateau
Michigan State University Press, 9780870134456, 326pp.
Publication Date: June 30, 1998
* Individual store prices may vary.
or
Not Currently Available for Direct Purchase
Description
A fascinating compilation of original sources recounting the history, culture, and societies of Native American groups of the Great Columbia Plateau. Edited and annotated by award-winning writer Clifford E. Trafzer, this is a magnificent collection of oral stories of the Yakama, Nez Perce, Whisram, Klickitat, as well as several other tribes. Rich in detail, the stories form the basis for Plateau Indian history, offering readers traditional native narratives that allow people to enter a sacred world of words and stories. At the beginning of timefor all timesthese stories were told and retold for generations by all the Grandmothers and Grandfathers. These stories set animals, plants, and places in motion, and they help spin the cosmos into being. They keep the traditions alive and recreate the world with each telling.
This unique collection is representative of oral traditions that are still much a part of Plateau Indian culture today. Trafzer provides a provocative introduction that ties the oral traditions of the people to their history and culture, inviting readers to use the stories as windows that will offer a better understanding of Native Americans and their relationship with the natural world. Trafzer simply asks readers to enter the Native American world through the teachings and tellings of the Wahteetash, the first peoples.
Advertisement