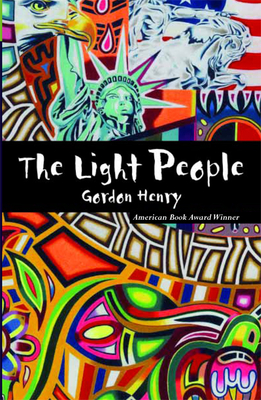 The Light People
A Novel
Paperback

* Individual store prices may vary.
Description
The Light People is a multi-genre novel that includes a series of nested stories about a tribal community in Northern Minnesota. Major themes include Oskinaway's search for his parents and the legal wrangling over the possession of a leg that has been removed from a tribal elder. Each story is linked to previous and successive stories to form a discourse on identity and cultural appropriation, all told with humor and wisdom.
     Taking inspiration from traditional Anishinabe stories and drawing from his own family's storytelling tradition, Gordon Henry, Jr., has woven a tapestry of interlocking narratives in The Light People, a novel of surpassing emotional strength. His characters tell of their experiences, dreams, and visions in a multitude of literary styles and genres. Poetry, drama, legal testimony, letters, and essays combine with more conventional narrative techniques to create a multifaceted, deeply rooted, and vibrant portrait of the author's own tribal culture. Keenly aware of Eurocentric views of that culture, Henry offers a "corrective history" where humor and wisdom transcend the political. 
    In the contemporary Minnesota village of Four Bears, on the mythical Fineday Reservation, a young Chippewa boy named Oskinaway is trying to learn the whereabouts of his parents. His grandparents turn for help to a tribal elder, one of the light people, Jake Seed. Seed's assistant, a magician who performs at children's birthday parties, tells Oskinaway's family his story, which gives way to the stories of those he encounters. Narratives unfold into earlier narratives, spinning back in time and encompassing the intertwined lives of the Fineday Chippewas, eventually revealing the place of Oskinaway and his parents in a complex web of human relationships.
Michigan State University Press, 9780870136641, 236pp.
Publication Date: April 30, 2003
About the Author
Gordon Henry is Professor of English at Michigan State University and Director of the Native American Institute, in the College of Agriculture and Natural Resources at Michigan State University. His poetry and fiction have been published in The Black Warrior Review, Mid-American Review, Stories Migrating Home, and North Dakota Quarterly, as well as numerous other journals and anthologies. The Light People, his first novel, won the American Book Award in 1995.
or
Not Currently Available for Direct Purchase