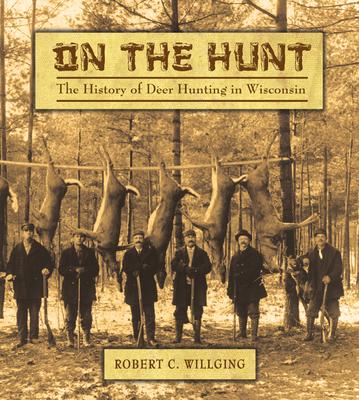 On the Hunt (Hardcover)
The History of Deer Hunting in Wisconsin
Wisconsin Historical Society Press, 9780870204050, 320pp.
Publication Date: December 18, 2008
Other Editions of This Title:
Paperback (12/15/2017)
* Individual store prices may vary.
Description
On the Hunt is the story of deer-hunting in Wisconsin, from the spear-throwing Paleo-Indians to the sportsmen of today. Meticulously researched by one of the state's most prolific outdoor writers, On the Hunt covers subsistence and sport hunting, deer camps, changing deer management policies, and recent developments and controversies, from human encroachment on deer habitat to CWD. Range maps and charts tracking annual herd populations and harvest goals complement Willging's engaging storytelling. Drawing from Department of Conservation papers, hunting magazines, newspapers, historic photos of classic deer camps, and the personal stories of hunters and deer managers, On the Hunt offers a fascinating glimpse into a distant and not-so-distant past, when the hunt joined men in almost mythical unity and bucks were seemingly larger than life.
An ardent sportsman with nearly 25 years of hunting experience, Willging understands that deer-hunting is as much about the smell of the woods in autumn and the meticulous cleaning of a fine rifle as it is about bringing home a whitetail. His story of how Wisconsin's own World War II flying ace, Richard Bong, squeezed in a few days of hunting while home on leave vividly illustrates the sport's powerful pull on hearts and minds. Willging also engagingly conveys the important tradition of the deer-hunting camp, from a humble two-man shack in Chequamegon National Forest (like the one he shared with his best friend, Steve) to the grand old Deer Foot Lodge founded in 1912 in Vilas County.
On the Hunt is perfect preparation for the avid sportsman's annual fall trek with friends and family into the woods.
About the Author
Robert C. Willgingis a freelance outdoors writer whose work has appeared in such publications as "Boundary Waters Journal," "Deer and Deer Hunting," "High Country News, Wisconsin Natural Resources," and "Wisconsin Outdoor News." A wildlife biologist for the U.S. Department of Agriculture and an ardent sportsman, Willging has pursued Wisconsin whitetails since 1984. He lives in Rhinelander with his wife and two children."
Praise For On the Hunt: The History of Deer Hunting in Wisconsin…
2009 Honorable Mention in the Outdoors Category from the Council for Wisconsin Writers
2009 Finalist in the Recreation/Travel/Sports Cateogryfrom Midwest Independent Publishers Association Book Awards
"Robert Willging tells the fascinating story of the white-tailed deer: its natural history from prehistoric time to present-day management controversies. It is the most comprehensive and enjoyable treatise of the white-tailed deer that I've seen. Whether you are an avid hunter or enjoy seeing the graceful whitetail, reading On the Hunt is a must. Once you start it you won't put it down." (Mike Dombeck, Former Chief, U.S. Forest Service; UW System Fellow and Professor of Global Conservation, University of Wisconsin-Stevens Point)
"My passion has always been white-tailed deer — its past, present, and future. As much as I thought I knew about the animal, I learned a lot more after going through On the Hunt. I would highly recommend it to anyone." (Jeff Shinkten, President, Whitetails Unlimited)
"While I'm no threat to Wisconsin's deer population, I still enjoy the tradition of the annual gathering for the hunt. On the Hunt's narrative is interesting in how it starts with early hunters and presettlement. I did not realize market hunting was such a big part of our history and was intrigued to read about how the deer population revived after logging. The book's coverage of deer management issues reminded me of my days with the DNR. I recommend Willging's book to my fellow whitetail hunters." (Tony Earl, former Governor of Wisconsin)
"I would recomment the book to any hunter who appreciates deer hunting beyond simply killing a deer. Besides deer and hunter statistics over the years, the book deals with the subculture of deer hunting. It contains many sidebars and illustrations from old to new photographs, old sporting goods ads, historic hunting licenses, and old restaurant menus. This book should be on every thinking deer hunter's bookshelf." (Jim Evard, Wisconsin Outdoor News)
or
Not Currently Available for Direct Purchase