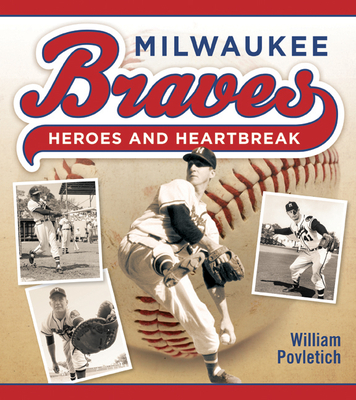 Milwaukee Braves (Paperback)
Heroes and Heartbreak
Wisconsin Historical Society Press, 9780870204234, 240pp.
Publication Date: March 20, 2009
* Individual store prices may vary.
Description
During their thirteen years in Wisconsin, the Milwaukee Braves never endured a losing season, won two National League pennants, and in 1957 brought Milwaukee its only World Series championship. With a lineup featuring future Hall of Famers Henry Aaron, Warren Spahn, Eddie Matthews, Red Schoendienst, and Phil Niekro, the team immediately brought Milwaukee "Big League" credentials, won the hearts of fans, and shattered attendance records. The Braves' success in Milwaukee prompted baseball to redefine itself as a big business—resulting in franchises relocating west, multi-league expansion, and teams leveraging cities for civically funded stadiums. But the Braves' instant success and accolades made their rapid fall from grace after winning the 1957 world championship all the more stunning, as declining attendance led the team to Atlanta in one of the ugliest divorces between a city and baseball franchise in sports history.
Featuring more than 100 captivating photos, many published here for the first time, Milwaukee Braves preserves the Braves' legacy for the team's many fans and introduces new generations to a fascinating chapter in sports history.
About the Author
William Povletich has a wide array of experience in the film and television industry and as a writer. His documentary film Henry Aaron's Summer Up North was an official selection to the 2006 National Baseball Hall of Fame Film Festival and the 2005 Wisconsin Film Festival. Povletich was also an executive producer on the one-hour television special Milwaukee Braves: The Golden Legacy for Fox Sports Net, the exclusive fiftieth-anniversary tribute to the 1957 World Series champions. His History Channel documentary Rwanda: Do Scars Ever Fade?, earned a 2005 Peabody Award and an Emmy nomination. Povletich is the author of Green Bay Packers: Legends in Green and Gold. A native of Mequon, Wisconsin, he lives and works in Stevenson Ranch, California.
Praise For Milwaukee Braves: Heroes and Heartbreak…
"Povletich masterfully recounts one of the most important periods in baseball history. By exploring both the what and the why of baseball's westward expansion, this is truly a must-read for educated baseball fans and historians alike. I came away from Milwaukee Braves with not only an understanding of what made Milwaukee a sports Mecca in the 1950s, but also a deep appreciation of how the business of baseball affects everything about the game today." (Doug Russell, Sportsradio Host, 1250AM WSSP, Milwaukee)
"Thanks to William Povletich, the Milwaukee Braves are no longer before my time, no longer just the team before the Brewers or merely a line in the Baseball Encyclopedia attached to the year 1957 as World Series winner. . . . This book is a timeless reminder of those thirteen great years the Braves spent in Milwaukee." (John Anderson, ESPN Sportscenter)
"William Povletich treats us to a joyous journey through time. This is a rich treasury of photos and stories that will surely please any Milwaukee Braves fan." (Tom Stanton, author of Hank Aaron and the Home Run that Changed America)
"William Povletich's unprecedented offering details a unique love affair between a region and a team. Beyond the heroes, and the magical moments that occurred on the field, the book also captures the behind-the-scenes events that catapulted baseball into big business." (Rick Schabowski, president of the Ken Keltner Badger State Chapter of Society of American Baseball Research)
 
"Chronicles a return to the Milwaukee and Wisconsin that time has all but forgot. It was a time when County Stadium was the place to be, a time when many of the ballplayers stayed year-round and worked in public relations for Miller or Blatz during the off-season, a time when players never had to pay for a meal and always got a free car to drive. It was all Braves, all the time. The Milwaukee Braves are long gone. So are high-kicking pitchers like Warren Spahn, double headers, streetcars to the stadium. But the Milwaukee Braves are a reminder of what we were. . . . Fortunately for avid baseball fans, this book brings the Milwaukee Braves back to life." (Bud Lea, former sports editor, Milwaukee Sentinel)

Even if you have read other books about the Milwaukee Braves, you should still check this one out.  This books writing style and photos give it an entirely different feel than some of the others.  Each book offers different things about the same subject, and this one has earned its rightful place among them.  Braves fans will not be disappointed.(Gregg Kersey, Gregg's Baseball Bookcase)
2009 Bronze in the Sports Category from ForeWord Magazine's Book of the Year Award 
2009 Winner in the Recreation/Travel/Sports Category from Midwest Independent Publishers Association Book Awards
2009 Finalist in the Design: Interior Layout and 3-Color Cover Categories from Midwest Independent Publishers Association Book Awards
2010 Winner in the General/Non-Fiction/4 Color Internals from the Chicago Book Clinic and Media Show
2010 Winner in the Sports Category from National Indie Excellence Awards
2010 Finalist in the Cover Design Non-fiction Category from Next Generation Indie Book Awards
2010 Winner in the Regional Non-fiction Category from Next Generation Indie Book Awards
2010 Finalist in the Sports: General Category from USA National Best Book Awards
or
Not Currently Available for Direct Purchase