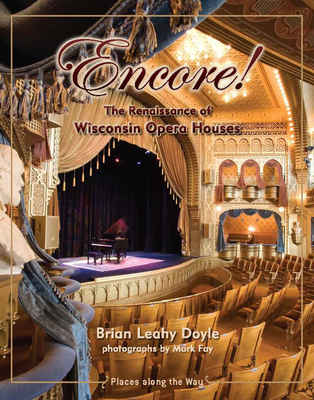 Encore!
The Renaissance of Wisconsin Opera Houses (Places Along the Way)
Hardcover

* Individual store prices may vary.
Description
A remarkable number of Wisconsin towns and cities were home to an opera house in the late 1800s and early 1900s. Some were freestanding structures built by local benefactors, industrialists, and capitalists. Others were located within a city hall building and financed by local tax dollars with the support of government officials who believed in the value of the arts for their community
In Encore! The Renaissance of Wisconsin Opera Houses, Brian Leahy Doyle chronicles the histories of ten Wisconsin opera houses and theaters, from their construction to their heydays as live performance spaces and through the periods when many of these stages went dark. But what makes these stories so compelling is that all but one of the featured theaters has been restored to its original splendor. Just as the beginnings of these theaters were often the result of the efforts of local citizens, Doyle discovers that their restoration is due to the commitment of dedicated and passionate people. More than one of these revived theaters has spurred the revitalization of its surrounding downtown business district as well.
Encore! is the second book in the Places along the Way series. Richly illustrated with historic and contemporary photos, the Places along the Way series links Wisconsin's past with its present, exploring the state's history through its architecture.
 
Praise For Encore!: The Renaissance of Wisconsin Opera Houses (Places Along the Way)…
2009 Finalist in the Arts, Midwest, and Design-3 Color Cover Categories from Midwest Independent Publishers Association Book Awards
2010 Finalist in the Travel/Travel Guide Category from Next Generation Indie Book Awards
2010 Winner of the Outstanding Book of the Year Award from the Theatre Historical Society of America
2010 Silver in the Regional Category from ForeWord Magazine's Book of the Year Awards
2010 Winner in the Regional Nonfiction Category from National Indie Excellence Awards
2010 Winner in the Performing Arts Category from USA National Best Book Awards
"Written by theater director Brian Leahy Doyle and profusely illustrated by photographer Mark Fay, Encore is a reminder of a time when an opulent performing arts center was considered a greater community asset than a sports arena." (David Luhrssen, Sheperd Express)
"Encore! The Renaissance of Wisconsin Opera Houses is a must-have book for theater professionals and lay people interested in theater history and the cultures that nurtured it. Every state should have such a tribute to America's theater heritage. Encore! also honors the communities and individuals who have restored these jewels for the pleasure and enrichment of audiences for decades to come." (Richard L. Poole, chair, Briar Cliff University Theatre Department, and coauthor of The Opera Houses of Iowa)
"Brian Leahy Doyle's straightforward, enthusiastic writing style and impeccable research reveal an earnest affection not just for the opera houses of Wisconsin but the economic and migratory history of the mid-American frontier. This meticulously researched study with many attractive, telling images is an entertaining, illuminating read." (Rhona Justice-Malloy, editor of Theatre History Studies, and chair, University of Mississippi Department of Theatre Arts)
"Both a popular history and academic study, Encore! is an institutional and cultural history of the first order. It combines economic history, architectural history, demographics, and the aesthetic movements of late-nineteenth-century American drama into a panoramic narrative of Wisconsin's vibrant, dramatic past and its vital contemporary restoration." (Henry Veggian, Department of English and Comparative Literature, University of North Carolina at Chapel Hill)
"Working as an actor in Wisconsin, I've had the privilege of performing in the Pabst Theater in Milwaukee and the Grand Opera House in Oshkosh. While on tour with American Players Theatre, one of my favorite things to do while playing the Pabst is to walk new actors in through the stage door off Wells Street, walk them out onto the stage, and wait to see the look on their faces. They usually do not speak for a few moments. Brian Leahy Doyle does the same for his readers. He walks us through the stage doors of opera houses throughout our state, takes us behind their curtains, onto their stages, into their houses, and down to their dressing rooms. He also takes us into the lives of the men and women who designed and built these beautiful theaters, and the communities that enjoyed them. Encore! is full of the wonder and respect these 'Grand Old Ladies' deserve, and a fascinating account of the theatrical history of our state." (James DeVita, American Players Theatre)
"Perhaps most impressive is the way the ten chapters, each devoted to a specific opera house in a different town, segue seamlessly from evocative descriptions of the local topography and early settlers to the circumstances that brought about construction of these venues to loving descriptions of their special features, along with representative samplings of the kinds of fare that filled them, to the years of neglect and near-demolition, followed by the heroic efforts that preserved and restored them." (Felicia Hardison Londré, Theatre Journal)
Wisconsin Historical Society Press, 9780870204302, 272pp.
Publication Date: September 24, 2009
About the Author
Brian Leahy Doyle, MFA, is a theater director and theater historian. He has been a member of the faculty at Lehman College, City University of New York, and St. Cloud State University. He is affiliated with such professional theaters as the Pioneer Theatre Company, the George Street Playhouse, the Whole Theatre, Louisville's Classics in Context Festival, Riverside Shakespeare, the Irish Arts Center, Makor/92nd Street Y, and the Lovinger Theatre. A native of Wisconsin, Doyle currently resides in New York.
or
Not Currently Available for Direct Purchase