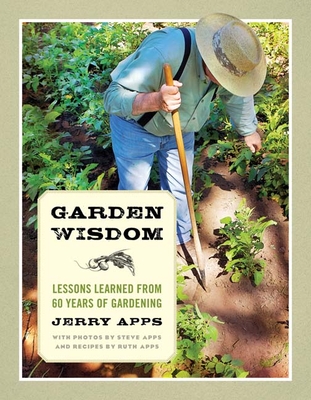 Garden Wisdom: Lessons Learned from 60 Years of Gardening (Paperback)
Lessons Learned from 60 Years of Gardening
Wisconsin Historical Society Press, 9780870204944, 203pp.
Publication Date: January 25, 2012
Description
Step into the garden with writer and rural historian Jerry Apps. In this treasure trove of tips, recollections, and recipes, Jerry combines his hard-earned advice for garden success with a discussion of how tending a garden leads to a deeper understanding of nature and the land. From planning and planting to fending off critters and weeds, he walks us through the gardening year, imbuing his story with humor and passion and once again reminding us that working even a small piece of land provides many rewards.Gardening has always been a group endeavor for the Apps family. In "Garden Wisdom, " readers will learn gardening basics along with Jerry's grandchildren as they become a new generation of gardeners. They ll devour Ruth's recipes for preparing and preserving fresh garden veggies from refrigerator pickles to rutabaga pudding. And they ll savor son Steve's beautiful color photographs, capturing the bounty of the family garden throughout the growing season.
About the Author
Jerry Apps has been a rural historian and environmental writer for more than forty years. He has published books on many rural topics, including "Every Farm Tells a Story, Living a Country Year, Horse-Drawn Days, " "Barns of Wisconsin, " and "Old Farm." He is a former county extension agent and professor at the University of Wisconsin College of Agricultural and Life Sciences and a lifelong vegetable gardener.As chief photographer for the "Wisconsin State Journal," Steve Apps has covered a wide range of assignments, including the Green Bay Packers and University of Wisconsin Madison sports. In 2008 he received the Pro Football Hall of Fame s Dave Boss Award of Excellence; his photo First Down was selected Photograph of the Year for 2007. In his time off Steve loves to travel the state documenting Wisconsin and all its beauty.Ruth Apps has a degree in home economics education from the University of Wisconsin Stout. She has worked for the University of Wisconsin as a county home economics agent and for Madison Area Technical College. Ruth has canned, frozen, and otherwise prepared garden produce since she and Jerry were married. She makes pumpkin pie from real pumpkins."
Praise For Garden Wisdom: Lessons Learned from 60 Years of Gardening…
"Whether sharing boyhood memories, the times he spent gardening with his children and grandchildren, or his knowledge of growing vegetables and fruits, Apps combines memoir, useful information, and gardening philosophy with warmth and humor." (Library Journal)
"Those who have also grown to love the slow rhythms and quiet satisfactions of growing one's own food will enjoy the company of his recollections. The collection is filled with humorous anecdotes and quiet observations of the cycle of life in the humble vegetable patch—plus an unexpected recipe for sorghum cookies. The pleasures he discovers in the garden come through on each page." (Publishers Weekly)
"Want to know how to transplant tomatoes, hoe a row of rutabaga, or put up a peck of pickled peppers? There's an Apps for that!. . . . As informative as it is entertaining, Apps' heartfelt chronicle transforms the standard gardening guidebook into a deeply personal appreciation for nature's bounty." (Booklist)
"Jerry Apps has tapped into the wisdom of five generations of family—from his grandparents to his grandchildren—to create a richly personal and practical guide to growing, storing, and using foodstuffs in the Badger State. This is a wonderful book for all Wisconsin gardeners." (Jerry Minnich, author of The Wisconsin Garden Guide and The Rodale Book of Composting)
"Jerry Apps sets the stage and draws readers in for a crop-by-crop, season-by-season saga as old as home vegetable gardening itself. He weaves the tale using the perfect balance of experience, folklore, and science. The UW Extension background of this husband and wife team lends added credibility to their gardening methods and recipes alike. In the end you feel more a part of the society of gardeners everywhere and a little bit a part of the Apps family." (Sharon Morrissey, UW Extension Consumer Horticulture Agent and cohost of Milwaukee FOX6-TV's Wake-up News gardening segments)
Advertisement