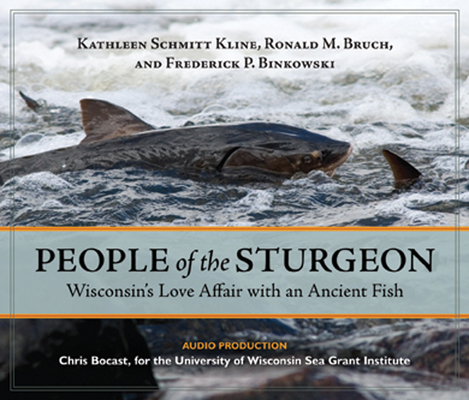 People of the Sturgeon
Wisconsin's Love Affair with an Ancient Fish
CD-Audio

* Individual store prices may vary.
Other Editions of This Title:
Paperback (8/1/2018)
Hardcover (8/1/2009)
Description
People of the Sturgeon tells the poignant story of an ancient fish. Wanton harvest and habitat loss took a heavy toll on these prehistoric creatures until they teetered on the brink of extinction. But, in Wisconsin, lake sturgeon have flourished because of the dedicated work of Department of Natural Resources staff, university researchers and a determined group of spearers known as Sturgeon For Tomorrow. Thanks to these efforts, spearers can still flock by the thousands to frozen Lake Winnebago each winter to take part in a ritual rooted in the traditions of the Menominee and other Wisconsin Indians. A century of sturgeon management on Lake Winnebago has produced the world's largest and healthiest lake sturgeon population. Through a fascinating collection of images, stories and interviews, People of the Sturgeon chronicles the history of this remarkable fish and the cultural traditions it has spawned. The authors introduce a colorful cast of characters with a good fish tale to tell. Color photos by the late Bob Rashid and images from the Wisconsin Historical Society evoke both the magical and the mortal. Weaving together myriad voices and examining the sturgeon's profound cultural impact, the authors reveal how a diverse group of people are now joined together as "people of the sturgeon."
Praise For People of the Sturgeon: Wisconsin's Love Affair with an Ancient Fish…
"Part natural history, part oral history, and part environmental history,
People of the Sturgeon
gives readers something that is hard to come by these days: an environmental tale with a happy ending. While degraded habitats and overfishing brought many sturgeon populations close to extinction, Lake Winnebago sturgeon have, with the help of public and private efforts, survived and thrived to become the world's largest lake sturgeon population today, able to support a unique recreational spearing fishery as well as a research program that is unlocking many of the secrets of this ancient fish. In this fascinating account, you'll see vivid photos, read great fish stories, and meet lots of unforgettable Wisconsin characters. This is a book every sportsman and student of the environment needs to own." (
Professor Robert F. Kennedy Jr., Pace Law School
) "Spearers sit patiently in darkhouse shacks perched on the frozen expanse of Lake Winnebago, waiting hours, days — even years — for a giant shadow to glide beneath them. Volunteers patrol the banks of the Wolf River on an April night, listening for the splashing of spawning fish and watching for would-be poachers. Menominee tribesmen dance to mimic the thrashing of these prehistoric giants as they struggle upstream to spawn, then feast in celebration on their smoked flesh as their ancestors have done for millennia. They are all people of the sturgeon, and they are all honored in this book. Few fish are as homely, yet none seems to engender as much affection.
People of the Sturgeon
tells the stories of those whose lives have been deeply touched by this fish, and the story of the fish itself weaves through the narrative to bind it together. It is a marvelous story and a heart-warming read." (
Dan Small, Host/producer of Outdoor Wisconsin and
Outdoors Radio
) "
People of the Sturgeon
truly is an old love story between humans and this remarkable fish. Moreover, as research and conservation efforts improve the sturgeon's lot, it is a love story which is headed for a rosier future." (
John Michael Senger, ForeWord
Magazine
) "This fish is important to both Native Americans and the later European immigrants, and by looking at all aspects of the interaction of fish and human society, the authors have presented a lively blend of cultural and natural history." (
Nancy Bent,
Booklist
)                            "The lore surrounding the sturgeon, and a few fish stories as well, is the popular audience bait for
People of the Sturgeon: Wisconsin's Love Affair with an Ancient Fish
. But authors Kathleen Schmitt, Ronald M. Bruch, and Frederick P. Binkowski show that the sturgeon's survival is an example of Wisconsin's long standing, progressive policy toward conservation." (
David Luhrssen,
Shepherd Express
) "Bruch spearheaded an effort to collect artifacts and record the stories told by spearers, decoy carvers, poachers, retired game wardens and sturgeon biologists, Menominee Tribal elders, and others from throughout the Winnebago-Fox-Wolf River System. The book also culls the photo albums, newspaper clippings and personal recollections of Wisconsin families to show how the huge, homely lake sturgeon found in the Lake Winnebago system captured their hearts, and with their help, returned from the edge of extinction." (
Wisconsin State Journal
)
2010 Winner in the General Trade/Non-Fiction/Four Color Internals Category from Chicago Book Clinic and Media Show
2010 Winner in the Ellis/Henderson Outdoor Writing Category from the Council for Wisconsin Writers
2010 Gold in the Nature Category from ForeWord Magazine's Book of the Year Awards
2010 Gold in the Great Lakes Best Regional Non-Fiction Category from Independent Publisher Book Awards
2010 Winner in the Nature Category from Midwest Independent Publishers Association Book Awards
2010 Gold in the Sports/Fitness/Recreation Book Category from PubWest Book Design Awards
2010 Winner of the Outstanding Achievement Award from the Wisconsin Library Association
2010 Winner in the Science/Nature/Environment Category from Next Generation Indie Book Awards
2010 Winner in the Nature Category from National Indie Excellence Awards
2010 Winner in the Environment: Political/Social Category from USA National Best Book Awards
Wisconsin Historical Society Press, 9780870205682
Publication Date: March 15, 2012
About the Author
Kathleen Schmitt Kline is an outreach coordinator at the University of Wisconsin Sea Grant Institute, which supports research, education, and outreach dedicated to the stewardship and sustainable use of the nation's Great Lakes and ocean resources.
Ron Bruch is Natural Resources Region Team Supervisor for the Wisconsin Department of Resources, and the lead sturgeon biologist for the Lake Winnebago system.
Fred Binkowski is a senior scientist at the Wisconsin Great Lakes WATER Institute and the aquaculture advisory services specialist with the University of Wisconsin Sea Grant Institute. He has been raising and researching lake sturgeon since 1979.
Bob Rashid was a photographer/writer whose books include Gone Fishing and Wisconsin's Rustic Roads, which inspired Wisconsin Public Television's documentary of the same title. He died in 2008.
or
Not Currently Available for Direct Purchase