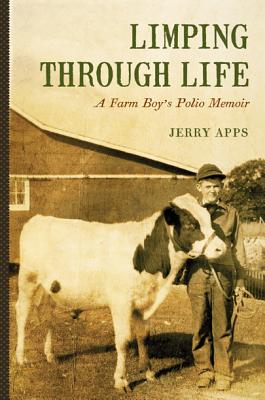 Limping through Life (Hardcover)
A Farm Boy's Polio Memoir
Wisconsin Historical Society Press, 9780870205804, 248pp.
Publication Date: April 24, 2013
* Individual store prices may vary.
Description
Limping through Life
A Farm Boy's Polio Memoir
Jerry Apps

"Families throughout the United States lived in fear of polio throughout the late 1940s and early 1950s, and now the disease had come to our farm. I can still remember that short winter day and the chilly night when I first showed symptoms. My life would never be the same."
—from the Introduction

Polio was epidemic in the United States starting in 1916. By the 1930s, quarantines and school closings were becoming common, as isolation was one of the only ways to fight the disease. The Sauk vaccine was not available until 1955; in that year, Wisconsin's Fox River valley had more polio cases per capita than anywhere in the United States. In his most personal book, Jerry Apps, who contracted polio at age twelve, reveals how the disease affected him physically and emotionally, profoundly influencing his education, military service, and family life and setting him on the path to becoming a professional writer.
A hardworking farm kid who loved playing softball, young Jerry Apps would have to make many adjustments and meet many challenges after that winter night he was stricken with a debilitating, sometimes fatal illness. In Limping through Life he explores the ways his world changed after polio and pays tribute to those family members, teachers, and friends who helped him along the way.
About the Author
Jerry Apps has been a rural historian and environmental writer for more than forty years. He has published fiction and nonfiction books on many rural topics, including Ringlingville USA, Casper Jaggi: Master Swiss Cheese Maker, Horse-Drawn Days, Old Farm, and Garden Wisdom for the Wisconsin Historical Society Press. He is a former county extension agent and professor at the University of Wisconsin College of Agricultural and Life Sciences. Jerry and his wife, Ruth, divide their time between their home in Madison and their farm, Roshara, west of Wild Rose.
Praise For Limping through Life: A Farm Boy's Polio Memoir…
In 1947, when he was just 12 years old, the world as Apps knew it was turned upside down. A rural Wisconsin farm boy, Apps was all too familiar with the aches and twinges that came from a hard day helping his family tend livestock and crops. The searing pain that gripped his right leg one November night was unlike anything he'd felt before, however, and something that would not be eased by a few unheard of days of rest or his mother's traditional home cures. Diagnosed with polio and saddled with a crippling limp that could limit his productive life and ability to contribute to his family's welfare, Apps learned to cope and compensate. Frankly describing the emotional and physical challenges that were the disease's legacy, Apps reflectively positions his subsequent academic, military, professional, and personal accomplishments within the framework of a more innocent time and place. A respected historian, environmentalist, and author (Tamarack River Ghost, 2012), Apps' meticulous attention to detail and deep appreciation for those who helped him persevere enliven this poignant memoir.(Carol Haggas,Booklist)



Limping Through Life is well worth reading. It is an engaging Midwestern story of pain, striving, and hard work. Apps's descriptions of his parents' reactions to his illness are priceless and heartbreaking.  His father's successful attempt to rehabilitate him through hard work and horse liniment captures both the strengths and weaknesses of farm families facing hardship. They made the best they could of what they had but unfortunately missed the damaged soul that needed tending.  This story of farm childhood, polio, and making a new life where a weak leg would not matter is bound to intrigue anyone with an interest in the Midwest, agriculture, or childhood, and makes an excellent addition to the list of recently published memoirs detailing farm life at the middle of the twentieth century. (Pamela Riney-Kehrberg, The Annals of Iowa)