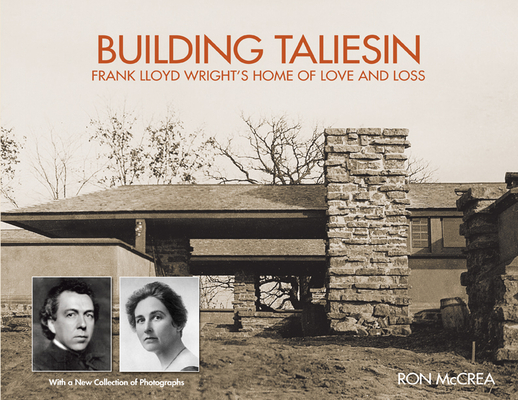 Building Taliesin (Paperback)
Frank Lloyd Wright's Home of Love and Loss
Wisconsin Historical Society Press, 9780870206061, 240pp.
Publication Date: June 12, 2012
* Individual store prices may vary.
Description
Through letters, memoirs, contemporary documents, and a stunning assemblage of photographs - many of which have never before been published - author Ron McCrea tells the fascinating story of the building of Frank Lloyd Wright's Taliesin, which would be the architect's principal residence for the rest of his life. Photos taken by Wright's associates show rare views of Taliesin under construction and illustrate Wright's own recollections of the first summer there and the craftsmen who worked on the site.
The book also brings to life Wright's "kindred spirit," "she for whom Taliesin had first taken form," Mamah Borthwick. Wright and Borthwick had each abandoned their families to be together, causing a scandal that reverberated far beyond Wright's beloved Wisconsin valley. The shocking murder and fire that took place at Taliesin in August 1914 brought this first phase of life at Taliesin to a tragic end.
About the Author
Ron McCrea is a prize-winning journalist and former Alicia Patterson Fellow who worked on the news desks of "New York Newsday, "the "San Jose Mercury News, " the "Washington Post, " the "Washington Star, "the "Boston Globe, " and the "Capital Times" in Madison, Wisconsin, where he served for a decade as city editor. He appears in the E! Entertainment Network s documentary "Mysteries and Scandals: Frank Lloyd Wright" and the BBC s "Frank Lloyd Wright: Murder, Myth and Modernism, " and wrote the script for The Making of Monona Terrace: Frank Lloyd Wright s Last Public Building, a finalist at the New York Film Festival. He serves on the board of directors of AIA Wisconsin, the Wisconsin Society of Architects, as a professional affiliate member, and was the communications director for Wisconsin governor Tony Earl. He holds degrees from Albion College and the Fletcher School of Law and Diplomacy at Tufts University and lives in Madison, Wisconsin."
Praise For Building Taliesin: Frank Lloyd Wright's Home of Love and Loss…
"The photographs in
Building Taliesin
reveal a masterpiece in the making. This is a beautiful book." (Pedro E. Guerrero, Frank Lloyd Wright's photographer)
"Building Taliesin is a thoroughly enjoyable history of the house that Frank Lloyd built for Mamah Borthwick. With rich details and rare photographs, author Ron McCrea offers up new insights into Taliesin and the lovers for whom it was a refuge. A fascinating read." (Nancy Horan, author, Loving Frank)