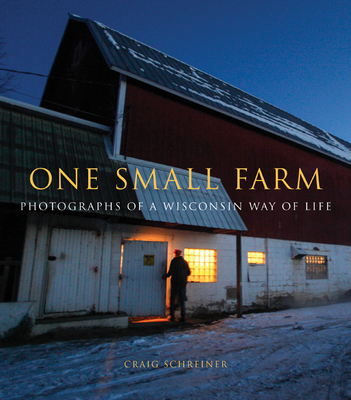 One Small Farm
Photographs of a Wisconsin Way of Life
Hardcover

* Individual store prices may vary.
Description
"People's lives are written on the fields of old farms. The rows of the fields are like lines on a page, blank and white in winter, filled in with each year's story of happiness, disappointment, drought, rain, sun, scarcity, plenty. The chapters accumulate, and people enter and leave the narrative. Only the farm goes on."—From the Introduction
In One Small Farm, Craig Schreiner's evocative color photographs capture one family as they maintain the rhythms and routines of small farm life near Pine Bluff, Wisconsin. "Milk in the morning and milk at night. Feed the cows and calves. Plant crops. Grind feed. Chop and bale hay. Cut wood. Clean the barn. Spread manure on the fields. Plow snow and split wood in winter. In spring, pick rocks from the fields. Cultivate corn. Pick corn. Harvest oats and barley. Help calves be born. Milk in the morning and milk at night."
There's much more to life on the farm than just chores, of course, and Schreiner captures the rhythms and richness of everyday life on the farm in all seasons, evoking both the challenges and the joys and providing viewers a window into a world that is quickly fading. In documenting the Lamberty family's daily work and life, these thoughtful photos explore larger questions concerning the future of small farm agriculture, Wisconsin cultural traditions, and the rural way of life.

Wisconsin Historical Society Press, 9780870206177, 128pp.
Publication Date: September 29, 2013
About the Author
Craig Schreiner has a deep connection to the land and rural people. His parents farmed in rural northwestern Illinois in an area very like southern Wisconsin until he was 14. Then, when his dad started a used farm machinery business, Craig worked there summers and weekends through high school. At the same time he became interested in photojournalism. In high school and during summers home from college, Craig worked for the weekly Northwestern Illinois Farmer, covering farm issues and farm people in the counties in the corner of the state bordering Wisconsin and Iowa. He began photographing the Lamberty farm and family while working as a Wisconsin State Journal staff photographer. He now works as a photographer in the marketing and media relations office at the University of Wisconsin–Whitewater and teaches photojournalism at Madison Area Technical College in Madison. He lives in Middleton, Wisconsin, with his wife Lisa. They have three sons.
or
Not Currently Available for Direct Purchase