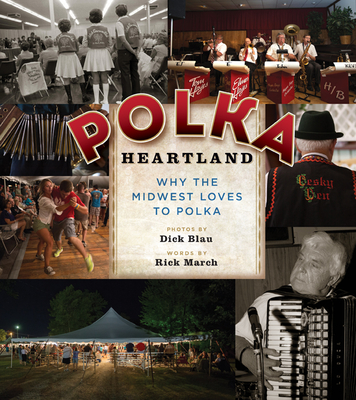 Polka Heartland
Why the Midwest Loves to Polka
Hardcover

* Individual store prices may vary.
Description
"Polka Heartland" captures the beat that pulses in the heart of Midwestern culture--the polka--and offers up the fascinating history of how "oompah-pah" came to be the sound of middle America. From the crowded dance tent at Pulaski Polka Days to an off-the-grid Mexican polka dance in small-town Wisconsin, "Polka Heartland" explores the people, places, and history behind the Midwest's favorite music.
From polka's surprising origin story as a cutting-edge European fad to an exploration of the modern-day polka scene, author Rick March and photographer Dick Blau take readers on a joyful romp through this beloved, unique, and richly storied genre. "Polka Heartland" describes the artists, venues, instruments, and music-makers who have been pivotal to polka's popularity across the Midwest and offers six full-color photo galleries to immerse readers in today's vibrant polka scene.
Praise For Polka Heartland: Why the Midwest Loves to Polka…
Polka Heartland, a rollickingly entertaining and educational book that traces its origins as a cutting-edge European fad to its current status as a festival favorite in cities, towns and villages across Wisconsin. (Michael Popke, The Isthmus, November 2015)

In the introduction to Polka Heartland, March (state folklorist for Wisconsin, 1983-2009) writes that he and photographer Dick Blau "aim for in-depth, visually oriented views into the active polka scenes of [their] region" and that it is a project they do not "take lightly." Blau did the photography for Charles Keil and Angeliki Keil's Polka Happiness (CH, Mar'93, 30-3740), and he and March have long been immersed in the Midwestern polka scene. As a result, the present title is a well-plotted survey of what polka is, where it originated, and how it made its way to the Midwest. What is more, they provide engaging synopses of the various styles of polka in the Midwest. Between chapters are "polka interludes"—brief passages that address such things as the difference between a concertina and an accordion, and why beer and polka go well together. Blau's charming color photos are an excellent complement to March's eloquent prose. The selected readings and recordings listed at the end of the book will be a boon for readers curious about this dance form. (Choiceconnect.org, S. Tharp, University of Wyoming Libraries, January 2015)

A unique, engaging, informed, informative, and inherently fascinating cultural history from beginning to end...(James A. Cox, Midwest Book Review, Reviewer's Choice, Wisconsin Bookwatch: January 2016)


Rick March takes us through the small towns of Wisconsin to outline the continuing attraction polka music still holds for many people. Supplemented by excellent photographs by Dick Blau, Polka Heartland is a personal and heartfelt look at this interesting and unique popular music ... Whether it be the Pulaski Polka days or the Las Vegas Latin Night Club, ... polka plays a vital role in the lives and the identity of these communities...the enthusiasm for the music, and the recent attraction by a younger audience,suggest that the music is evolving yet again... As a music that seems to define the midwest, this is welcome news... (Professor Kenneth J. Bindas, The Annals of Iowa, Vol. 75, 2015)

Polka Heartland serves a dual purpose. It is both a "coffee table book" that would be enjoyed by a general audience interested in the photographs and vignettes of the musicians and dancers, and a solid academic study of polka, particularly as seen in Wisconsin but also strongly applicable to polka throughout the United States. … [It] not only fill gaps in scholarly materials that document the traditional and popular music of the Upper Midwest, but more generally represent valuable additions to the literature on American music. (Carl Rahkonen, Indiana University of Pennsylvania,Quarterly Journal of the Music Library Association, June 2017)



.
Wisconsin Historical Society Press, 9780870207228, 208pp.
Publication Date: August 17, 2015
About the Author
Author and folklorist Rick March has participated in the Midwest polka scene for more than three decades. He is a preeminent scholar of Midwest music history and culture, a longtime radio host on Wisconsin Public Radio, a producer of polka CDs for Smithsonian Folkways, and a polka musician in his own right. March is retired from the Wisconsin Arts Board.
Dick Blau has a BA from Harvard and a PhD from Yale. A self-taught photographer, filmmaker, and performer, he co-founded the highly regarded Department of Film at the University of Wisconsin-Milwaukee. Blau calls his work an ethnography of the feelings. His subjects range from highly personal dramas to huge communal events. Blau has co-authored three books on the culture of celebration: Polka Happiness, Skyros Carnival, and Bright Balkan Morning. Blau lives with writer Jane Gallop in downtown Milwaukee.   
 
or
Not Currently Available for Direct Purchase