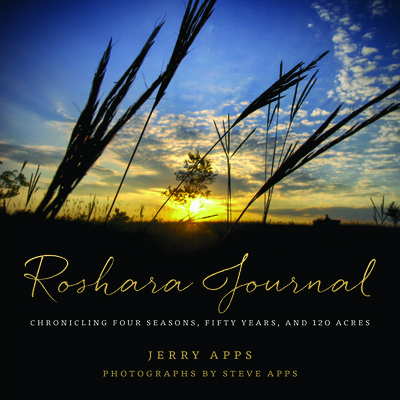 Roshara Journal (Hardcover)
Chronicling Four Seasons, Fifty Years, and 120 Acres
Wisconsin Historical Society Press, 9780870207631, 128pp.
Publication Date: June 13, 2016
* Individual store prices may vary.
Description
A photographic diary of a small Midwestern farm and the family who've made it their home
In Roshara Journal, father-and-son team Jerry and Steve Apps share the monthly happenings at their family's farm in central Wisconsin. Featuring Steve's stunning photos and fifty years of Jerry's journal entries, Roshara Journal captures the changes—both from month to month and over the decades—on the landscape and farmstead.
The Apps family has owned Roshara since 1966. There they nurture a prairie restoration and pine plantation, maintain a large garden that feeds three generations, observe wildlife species by the dozens, and support a population of endangered butterflies. In documenting life on this piece of land, Jerry and Steve remind us how, despite the pace and challenges of modern life, the seasons continue to influence our lives in ways large and small. Jerry explains that his journal entries become much more than mere observations: "It seems that when I write about something—a bur oak tree, for example—that old tree becomes a part of me. . . . Writing takes me to a place that goes beyond observation and understanding, a place filled with feeling and meaning."
In the tradition of Bernd Heinrich in Maine, Barry Lopez in the Canadian Arctic, and Aldo Leopold just an hour down the road in Baraboo, Jerry and Steve Apps combine observation, experience, and reflection to tell a profound story about one place in the world.
About the Author
Jerry Apps
is professor emeritus at the University of Wisconsin–Madison and the author of many books on rural history, country life, and the environment. Jerry has created three hour-long documentaries with Wisconsin Public Television; he has won several awards for his writing and a regional Emmy Award for the TV program Farm Winter. Jerry and his wife, Ruth, have three children, seven grandchildren, and two great grandsons. They divide their time between their home in Madison and their farm, Roshara, in Waushara County.
Steve Apps
lives in Madison and is the chief photographer for the Wisconsin State Journal. He has spent more than thirty years as a news photographer covering everything from sports to natural disasters. His photo coverage of the Green Bay Packers has been recognized five times by the Pro Football of Fame, and his photo of Brett Favre at Lambeau Field won the Dave Boss Award of Excellence. His work has won awards from the Pictures of the Year Competition, the Milwaukee Press Club, and the Wisconsin News Photographers Association.
Praise For Roshara Journal: Chronicling Four Seasons, Fifty Years, and 120 Acres…
The thoughtful reflections of a careful observer and the photographic art of a skilled professional gently lead the reader from Spring to Summer to Autumn and Winter...."Roshara Journal" is an outstanding work. It is a treasure to absorb. Go through a few pages and then put it down. Let them sink in before you move on. When you get to the end, set it aside, but not too far away. Pick it up now and then to savor and enjoy. (Jim Gallen, Reviewer, June 2016)