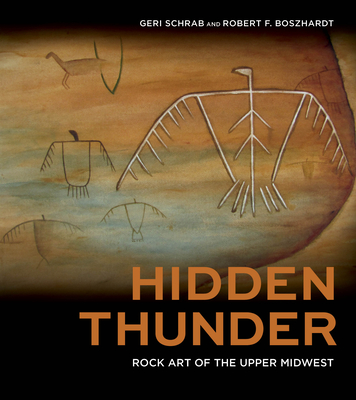 Hidden Thunder
Rock Art of the Upper Midwest
Hardcover

* Individual store prices may vary.
Description
In Hidden Thunder, renowned watercolor artist Geri Schrab and archaeologist Robert "Ernie" Boszhardt give readers an up-close-and-personal look at rock art. With an eye toward preservation, Schrab and Boszhardt take you with them as they research, document, and interpret at the ancient petroglyphs and pictographs made my Native Americans in past millennia. In addition to publicly accessible sites such as Wisconsin's Roche-a-Cri State Park and Minnesota's Jeffers Petroglyphs, Hidden Thunder covers the artistic treasures found at several remote and inaccessible rock art sites—revealing the ancient stories through words, full-color photographs, and artistic renditions.
Offering the duo perspectives of scientist and artist, Boszhardt shares the facts that archaeologists have been able to establish about these important artifacts of our early history, while Schrab offers the artist's experience, describing her emotional and creative response upon encountering and painting these sites. Viewpoints by members of the Menominee, Ho-Chunk, Ojibwe, and other Native nations offer additional insight on the historic and cultural significance of these sites. Together these myriad voices reveal layers of meaning and cultural context that emphasize why these fragile resources—often marred by human graffiti and mishandling or damage from the elements—need to be preserved.
Praise For Hidden Thunder: Rock Art of the Upper Midwest…
Beautifully and profusely illustrated throughout, "Hidden Thunder: Rock Art of the Upper Midwest" is a seminal work of scholarship that is very highly recommended for academia and non-specialist general readers alike. Extraordinarily informed and informative, "Hidden Thunder" will prove to be a welcome and enduringly popular addition to community, college, and academic library Native American Art collections in general, and Native American Rock Art supplemental studies reading lists in particular.
(Midwest Book Review, December 2016)
Boszhardt and Schrab's efforts are commendable. These sites desperately need attention and preservation. The sorry condition of rock art in Wisconsin, Iowa, and elsewhere should not be treated as an Indian problem. After creating rock art, Indians protected these sacred sites for centuries or even millennia. It was only after Euroamerican invasion that these sites were defaced and destroyed. If this destruction is to stop, it is up to the dominant Euroamerican culture to stop it; no one else can or should be expected to. Sadly, recent examples of avarice, neglect, and vandalism of important Native ceremonial sites, such as the Wisconsin legislature's eagerness to allow the quarrying of mounds and the criminal shenanigans of former directors at Effigy Mounds National Monument, suggest that we lack the insight or willingness to do so. (William E. Whittaker, Journal of the Iowa Archeological Society, Vol. 63, 2016)
Hidden Thunder
is a unique experience. In this book of original paintings and historic photographs, Geri Schrab and Robert "Ernie" Boszhardt take readers along on their exploration of petroglyph and pictograph (rock art) sites in Wisconsin and Minnesota
.(David W. Benn, The Annals of Iowa, July 2017)
Wisconsin Historical Society Press, 9780870207679, 160pp.
Publication Date: September 13, 2016
About the Author
Geri Schrab is an awardwinning watercolor artist whose sole artistic focus is Native American rock art sites. She has twenty years of experience visiting and painting rock art sites across North America and Australia, with an emphasis on Wisconsin and the greater Lake Superior region. Robert "Ernie" Boszhardt is a professional archaeologist with more than forty years of experience, the vast majority in Wisconsin. He worked for the Mississippi Valley Archaeology Center at the University of Wisconsin–La Crosse for nearly thirty years and is now an independent archaeologist and an honorary fellow at the University of Wisconsin–Madison.
or
Not Currently Available for Direct Purchase