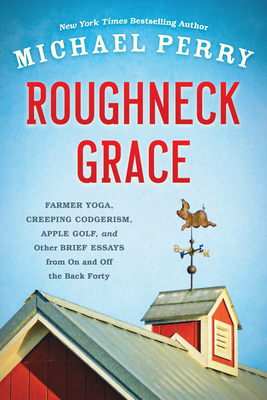 Roughneck Grace (Paperback)
Farmer Yoga, Creeping Codgerism, Apple Golf, and Other Brief Essays from on and off the Back Forty
Wisconsin Historical Society Press, 9780870208126, 240pp.
Publication Date: September 30, 2016
* Individual store prices may vary.
Description
New York Times bestselling author, humorist, and newspaper columnist Michael Perry returns with a new collection of bite-sized essays from his Sunday Wisconsin State Journal column, "Roughneck Grace." Perry's perspectives on everything from cleaning the chicken coop to sharing a New York City elevator with supermodels will have you snorting with laughter on one page, blinking back tears on the next, and--no matter your zip code--nodding in recognition throughout.
About the Author
Michael Perry is the author of numerous books including Population: 485 and the NewYork Times bestseller Visiting Tom. His live humor recordings include Never Stand behind a Sneezing Cow and The Clodhopper Monologues. He lives in rural Wisconsin with his wife and daughters and is privileged to serve as a first responder with the local fire department. He can be found online at www.sneezingcow.com.
Praise For Roughneck Grace: Farmer Yoga, Creeping Codgerism, Apple Golf, and Other Brief Essays from on and off the Back Forty…
Michael Perry is, of course, a treasure. His memoirs, essays, and now fiction ("The Jesus Cow") too, all use his hard-earned perceptiveness and gift for colorful clarity in chronicling modern midwestern life, with its messes and chaos, yes, but its quiet reflections as well.  "Roughneck Grace" collects his newspaper columns of the same name - each a little nugget of thoughtfulness, humor, and the occasional stumble into wisdom.  Mike mines his own incompetence (which runs "rich, wide, and deep" according to one column), but most often you'll be reminded that you'd be lucky to have such a decent fellow as your neighbor or friend, and that Grace, received or given is what matters most." (John Christensen, Arcadia Books, Spring Green,WI)

[Perry's] essays inspire a lot of collective nodding – like the first time he saw the Packers on a flat-screen – and also many laughs. You can't help but chuckle when he describes a yoga studio that caters to farmers or misses a deer while hunting because he's reading Poets & Writers. "Writing is a privilege," Perry says, and he uses his column "as a mirror to see how I'm measuring up." Our only grievance: These two-page stories will leave you wanting more.  (Kristine Hansen, Milwaukee Magazine, Oct. 19, 2016)

"The pieces chosen for his new essay collection, Roughneck Grace: Farmer Yoga, Creeping Codgerism, Apple Golf and Other Brief Essays from On and Off the Back Forty (Wisconsin Historical Society Press), serve as a compelling reminder of Perry's subtle wit, charm and predilection for nature, family and friends. That may sound a bit sappy, but that's okay. In a world in which 140 characters count as "writing," Perry's thoughtful and sensitive prose provides the authentic perspective of a 50-something man with one steel-toed boot planted firmly in nostalgia and the other in an ever-changing present. (Michael Popke, Isthmus, Oct. 6, 2016)