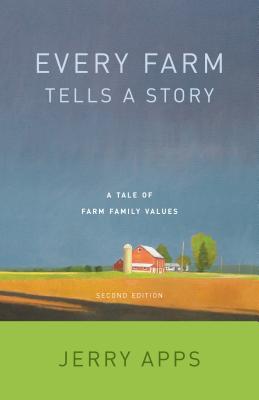 Every Farm Tells a Story (Paperback)
A Tale of Family Values
Wisconsin Historical Society Press, 9780870208638, 160pp.
Publication Date: February 6, 2018
* Individual store prices may vary.
Description
Jerry Apps details the virtues and hardships of rural living. 

"Do your chores without complaining. Show up on time. Do every job well. Always try to do better. Never stop learning. Next year will be better. Care for others, especially those who have less than you. Accept those who are different from you. Love the land."

In this paperback edition of a beloved Jerry Apps classic, the rural historian captures the heart and soul of life in rural America. Inspired by his mother's farm account books—in which she meticulously recorded every farm purchase—Jerry chronicles life on a small farm during and after World War II. Featuring a new introduction exclusive to this 2nd edition, Every Farm Tells a Story reminds us that, while our family farms are shrinking in number, the values learned there remain deeply woven in our cultural heritage. 
 
About the Author
A professor emeritus of agriculture at the University of Wisconsin–Madison, Jerry Apps has written more than forty fiction, nonfiction, and children's books, many of them on rural history and country life. His work has won awards from the American Library Association, the Wisconsin Library Association, the Wisconsin Historical Society, and the Council for Wisconsin Writers, and he has created four documentaries about farm life and country living with Wisconsin Public Television. Jerry and his wife, Ruth, divide their time between their home in Madison and their farm, Roshara, near Wild Rose, Wisconsin.