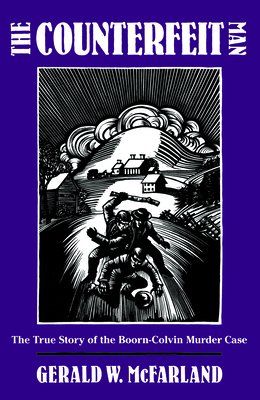 The "Counterfeit" Man
The True Story of the Boorn-Colvin Murder Case
Paperback

* Individual store prices may vary.
Description
When Russell Colvin disappeared in 1812, no one in Manchester thought much of it. He tended, after all, to wander. But by 1819 people began to suspect Stephen and Jesse Boorn of murdering their brother-in-law. To understand why so many neighbors believed the Boorns innocent for so long, and why seven years passed before town authorities launched an investigation of Colvin's disappearance, it is, of course, important to learn what facts were known, when, and by whom. However, it is equally important to ascertain how these facts were interpreted, and why they were interpreted as they were. What, in other words, was it about Russell Colvin, the Boorns, and the town of Manchester that shaped the public's response in such a way that an official inquiry into Colvin's disappearance was delayed so long? Or did it all have to do with ghostly sightings of Colvin?
Praise For The "Counterfeit" Man: The True Story of the Boorn-Colvin Murder Case…
"In 1812, after arguing with his brothers-in-law, Jesse and Stephen Boorn, Vermont farmer Russell Colvin vanished. Seven years later, a barrage of ghostly sightings convinced the Manchester citizenry that Colvin had been murdered. The Boorns were tried and convicted of his murder--then Colvin showed up again, and they went free. But was it really Covin, or an impostor? McFarland has crafted a fascinating, painstakingly researched account of this mystery, delineating in exquisite detail the characters involved and bringing a historian's eye for social background to bear on the village itself. The result is a crime reader's delight, complete with trial, dramatic reprieve, and surprising aftermath. Intriguing, insightful, often humorous, this is highly recommended."—Library Journal

"The return of this American Martin Guerre makes fascinating reading. . . . McFarland states in his preface that one of his purposes in writing this book was to use the Boorn-Colvin case as a means of 'studying a community and the social tensions that afflicted it at a given time' This he has done, and done splendidly"—New York Times Book Review
University of Massachusetts Press, 9780870238376, 256pp.
Publication Date: April 13, 1993
About the Author
Gerald W. McFarland is professor of history at the University of Massachusetts Amherst and author of Mugwumps, Morals, and Politics, 1884-1920. www.geraldwmcfarland.com
or
Not Currently Available for Direct Purchase