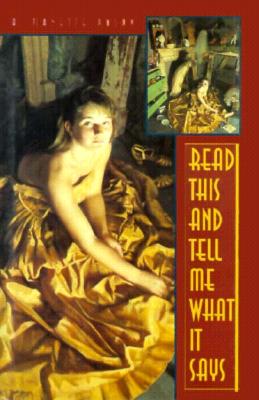 Read This and Tell Me What It Says (Grace Paley Prize in Short Fiction)
Hardcover

* Individual store prices may vary.
Other Editions of This Title:
Paperback (6/1/1998)
Description
Author of the widely acclaimed novel Vinegar Hill, A. Manette Ansay returns to the fictional town of Holly's Field, Wisconsin, and the midwestern landscape that surrounds it in her first full-length story collection, Read This and Tell Me What It Says.

Here are the lives of rural people struggling to make sense of the isolated and often intensely religious worlds in which they live. Marie, a young wife and mother, recalls the effects of a statutory rape trial on her small community. Stuart, a devout teenage boy, dares to rename himself "Start," the only significant thing he has ever done without first consulting God. Widowed Eliza discovers her husband's ghost in the bathroom, flipping through pages of the Popular Mechanics magazines she had thrown out after his death.

With grace and compassion, Ansay reveals the extraordinary interior lives of ordinary people. The result is a rare glimpse into the complex human equation of spiritual loneliness, desire, and hope.
Praise For Read This and Tell Me What It Says (Grace Paley Prize in Short Fiction)…
"It is wonderful in this day and age to find a writer as gifted as Ansay so entirely in touch with a real place. In Ansay's case, it's Holly's Field, Wisconsin, the gritty, rural setting of her acclaimed first novel, Vinegar Hill, and now of her brilliant new collection of short stories, Read This and Tell Me What It Says. Holly's Field is a place no reader will soon forget, where ordinary, completely believable Midwestern people, drawn with great compassion and originality, experience the most extraordinary revelations. This is first-rate fiction from one of America's finest young writers."—Howard Frank Mosher

"Ansay's voice adapts itself to a range of viewpoints--events seen through the eyes of children, of old women, of abandoned wives--each vision authentic and rewarding. At the center of the collection is this society's commonplace: the broken family. But each family is, like Tolstoy's Karenins, unhappy in its own way, and each of their stories shows us a different face of disruption. This is a winning collection worthy of its prize."—Robley Wilson

"These stories, painful and beautiful, are like lost memories brought to light. Ansay's language is entrancing, illuminating, searching."—Kelly Cherry
University of Massachusetts Press, 9780870239885, 160pp.
Publication Date: October 5, 1995
About the Author
Assistant professor of English at Vanderbilt University, A. Manette Ansay is the 1992 winner of the Nelson Algren Prize for the title story of Read This and Tell Me What It Says. She is a recipient of a Pushcart Prize and a National Endowment for the Arts grant. Her second novel, Sister, is forthcoming from Morrow.
or
Not Currently Available for Direct Purchase