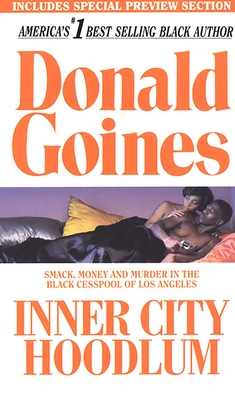 Inner City Hoodlum
Mass Market

* Individual store prices may vary.
Description
Johnny Washington, a black teenager in Los Angeles, knows the freight yard like the back of his hand. He and his pals, Josh and Buddy, hit them often, stealing for a fence. They have to. They're the soul support of their families. But when Josh is killed by a security guard (who gets his brains scattered by Buddy with nunchaku sticks), they are forced to look for other work. They find it with the underworld kings in Elliot Davis. But when Davis recruits Johnny's sister for his stabke and later OD's her, Johnny and Buddy come on with a vengeance.

"He lived by the code of the streets and his books vividly recreated the street jungle and its predators." —New Jersey Voice
Holloway House, 9780870679995, 256pp.
Publication Date: August 1, 1992
About the Author
Donald Goines was born in Detroit, Michigan. He joined the U.S. Air Force instead of going into his family's dry cleaning business. Following his service, he entered into a life of drug addiction and crime. He received seven prison sentences, serving a total of over six years. While he was in prison, Goines wrote his first two novels, Dopefiend: The Story of a Black Junkie and Whoreson: The Story of a Ghetto Pimp. Goines was shot to death in 1974.