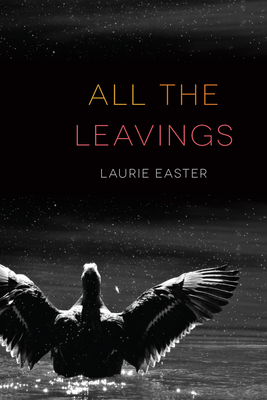 All the Leavings
Paperback

* Individual store prices may vary.
Description
In All the Leavings, Laurie Easter deftly navigates both the rugged terrain of the human heart and life on the edge of wilderness. Her contemplative, often experimental essays explore love and risk: giving birth in a rustic cabin; the destructive power of wildfires; losing friends to cancer, AIDS, suicide, and meth; encounters with birds and mountain lions; and the unthinkable potential loss of a child to illness. Drawing from a reverence for the natural world—perilous yet rich with beauty—that is deeply rooted in a wild Oregon, All the Leavings examines what it means to love, lose, and find strength in facing adversity.
Praise For All the Leavings…
"Dazzled by her prose, and startled by what living "off the grid" involves—(the bathtub is where?)—I was blown away from the git-go with a respect for Ms. Easter's courage and endurance. She has loved, and she has suffered loss, as have we all, and she writes of both. But the strength and beauty of her language, combined with a rare generosity of spirit—the willingness to be vulnerable—transform these pieces into something more than essays, that makes of each a kind of offering. I absolutely loved this book."
— Abigail Thomas, author of What Comes Next and How to Like It

"What is the color of leaving? Laurie Easter asks in this tender collection of essays that explores love, loss, and grief in all their many hues. She shows us there is no one answer to that central question, but instead builds a kaleidoscope that reflects the brilliant and broken-hearted nature of life itself." —Brenda Miller, author of A Braided Heart: Essays on Writing and Form

"Laurie Easter's essays illuminate the splendors and perils of a life shaped by wilderness, open-heartedness and the bold decision to live on one's own terms. All the Leavings dives headlong into stories of loss and an unusual life and does so with poise, humility and grace. An astonishing and exquisite debut." —Sonja Livingston, author of Ghostbread

"At one point in her compelling book of essays, Laurie Easter writes that she's never understood grace "in a spiritual sense." Yet these essays are full of grace – the kind that comforts the runaway, the meth addict, all those who are lost. These essays are set mostly in the rural Pacific Northwest, which is to say her empathy isn't ethereal, but deeply grounded. So while she may deny it, Easter lives grace, and has the lyrical words to spread it."
— Sue William Silverman, author of How to Survive Death and Other Inconveniences

"In this beautiful and poignant collection, Laurie Easter shows just how rich all the leavings of life can be. Both intimate and expansive, honest and vulnerable, sometimes stark but ultimately hopeful, All the Leavings reveals -- with beauty and grace -- the unexpected gifts that emerge from each parting. These essays glow with love and loss; through them we are illuminated by wonder, gratitude, and wisdom." —Randon Billings Noble, author of Be With Me Always
Oregon State University Press, 9780870711220, 176pp.
Publication Date: October 15, 2021
About the Author
LAURIE EASTER lives off the grid in southern Oregon. Her essays have been awarded fellowships by the Vermont Studio Center and Playa, listed as notable in Best American Essays, and published in many literary journals and anthologies. She holds degrees from Southern Oregon University and Vermont College of Fine Arts. All the Leavings is her first book.
laurieeaster.com