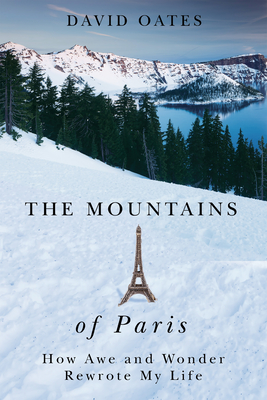 The Mountains of Paris
How Awe and Wonder Rewrote My Life
Paperback

* Individual store prices may vary.
Description
Living in Paris for a winter and a spring and waking each morning to a view of Notre Dame, David Oates is led to revise his life story from one of trudging and occasional woe into one punctuated by nourishing and sometimes unsettling brilliance. He asks: What is the meaning of this tremendousness?
 
In long years of mountaineering Oates fought the self-loathing that had infused him as the gay kid in the Baptist pew. And in The Mountains of Paris, he ascends to a place of wonder. In luminous prose, Oates invites readers to share a sense of awe—whether awakened by a Vermeer painting or a wilderness sojourn, by the night sky, a loved one, or echoing strains of music—lifting the curtain on a cosmos filled with a terrifying yet beautiful rightness.
 
Praise For The Mountains of Paris: How Awe and Wonder Rewrote My Life…
"I love this book. It's beautifully written, with lushness and yet craft. Oates can really write. He's a poet. His style is mature and quite, quite fine. When Oates promotes the idea that we should 'be present to mystery,' we should 'allow it,' I say yes."
—Chris Anderson, author of Light When It Comes: Trusting Joy, Facing Darkness, and Seeing God in Everything and The Next Thing Always Belongs
 

"Clearly and beautifully written, lyrical, poetic, and imaginative in style . . . I was drawn into how intensely particular and honest Oates was about his spiritual journey growing up and into adulthood. His range of knowledge about the natural world, art, music, literature, political history, philosophy, and religion makes the book unique in its reach."
—Gretel Van Wieren, author of Listening at Lookout Creek: Nature in Spiritual Practice
 
Oregon State University Press, 9780870719813, 192pp.
Publication Date: October 1, 2019
About the Author
David Oates is the author of two books of poetry and four works of nonfiction, including Paradise Wild: Reimagining American Nature and City Limits: Walking Portland's Boundary. His award-winning essays have appeared in Georgia Review, Creative Nonfiction, and Orion. He was Kittredge Distinguished Visiting Writer at the University of Montana and is founder and general editor of Kelson Books in Portland, Oregon.  
or
Not Currently Available for Direct Purchase