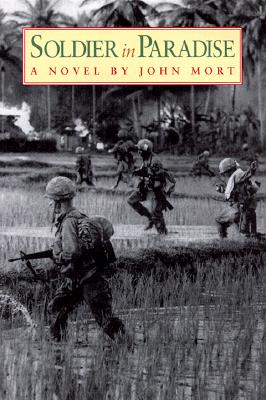 Soldier in Paradise
Hardcover

* Individual store prices may vary.
Description
John Mort's compelling first novel embodies both the Vietnam combat experience and the sad aftermath for those who underwent it.
James Patrick ("Irish") Donnelly flees the Missouri Ozarks with his life in shambles. His house has burned down, he's divorced, and he's estranged from his young son. On Florida's Gulf Coast, Irish joins a group of Vietnam veterans, one of whom reminds him of a soldier he knew in the jungles of Southeast Asia.
That soldier is Norman Sims, an awkward, naive young Oklahoman, who shoots himself in the foot and becomes an object of ridicule. And yet only a few weeks later he leaps upon a machine gun in the middle of battle and saves his entire company. Norman's doomed love for a Vietnamese woman and his heroic acts (there are several) are a kind of inspiration out of the distant past, and Irish pulls himself together and returns to Missouri, prepared for fatherhood and a new midlife romance.
The novel alternates between the "stateside" chapters after the war (containing Irish's past and present history) and the Vietnam chapters dramatizing the war, creating a tension back and forth in time as well as geography. We participate in the trauma of combat in crisp and authentic detail, and we witness the effect of that experience on Irish. Through his wry first person narrative we become acquainted with this bookish, reluctant soldier and his fellow infantrymen in the jungles and mountains of Vietnam and come to know him as the distanced, psychologically wounded narrator who slowly climbs back into a productive and satisfying life.
Transcending any "political" focus, "Soldier in Paradise" dramatically renders the alienation of Vietnam veterans, ordinary men who've had an extra burden to bear because of the protracted, brutish character of an unpopular war that never came to a satisfactory end. Though this is a war novel, it is also a story of love--romantic, paternal, fraternal--and of the power of memory and the healing power of putting one foot in front of the other to find a way to live in a seemingly meaningless world.
Southern Methodist University Press, 9780870744402, 192pp.
Publication Date: August 1, 1999
or
Not Currently Available for Direct Purchase