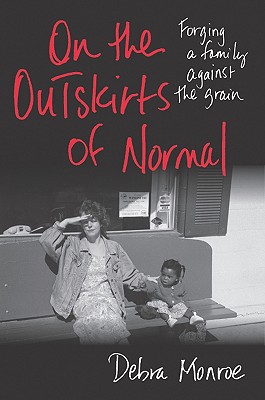 On the Outskirts of Normal
Forging a Family against the Grain
Hardcover

* Individual store prices may vary.
Description
Mired in debt and on the run from a series of broken homes, about-to-be-divorced Debra Monroe pulls up in front of a tumbledown cabin outside a small Texas town. Its isolation—miles from her teaching job in a neighboring city—feels right. She buys the house and ultimately doubles its size as she waits for the call from the adoption agency to tell her she's going to be a mom. Now in her forties, she is swept into the strange new world of single motherhood, complicated by the fact that she's white and her daughter is black. As Monroe learns to deal with her daughter's hair and to re-enter the dating scene, all the while coping with her own and her daughter's major illnesses, they live under the magnified scrutiny of the small, conservative town.  Confronting her past in order to make a better life for her daughter, Monroe rebuilds not only a half-ruined cabin in the woods but her sense of what it is that makes a sustainable family.

"Having driven across the country to see her brand-new adopted granddaughter, Debra Monroe's mother says the first thing that comes into her head: 'I knew she'd be black, but not this black.'  Monroe simply says, 'Mom, there's a blank in the baby book called Grandma's First Words.'  The sly, dry humor of this, the offering of the second chance, the reminder that everything, even the mistakes, will be written down—tells you most of what you need to know about Monroe's approach to life, and to memoir. Her generosity of spirit never fails her."—Marion Winik, author of First Comes Love

"Monroe's memoir forges a remarkable canniness about motherhood and its twin perils, grief and love."—Karen Brennan, author of Being with Rachel
Praise For On the Outskirts of Normal: Forging a Family against the Grain…
Required Reading "In a setting where working mothers are rare, novelist and Debra Monroe's adoption of a black baby puts her On the Outskirts of Normal."--Vanity Fair magazine

"A single woman's spunky memoir about the hazards and rewards of building a home and a family outside a small Texas town. Novelist and short-story writer Monroe adopted Marie, an African-American baby, and raised her in the Texas countryside where single female professors were an oddity and single white women with black babies were unheard of. The child of divorced parents and with two failed marriages behind her, the author wanted to create a loving family of her own, but first she had to fashion a suitable home out of a rundown cabin she owned. How she became her own contractor and handled the assorted workmen who didn''t know how to deal with a female boss could have been a stand-alone story, but the author integrates it into the larger context of motherly love. Single motherhood is challenging, but when race, misdiagnosed illnesses, surgery and the demands of a busy professional life are added, the struggles are compounded. Some problems—e.g., how to handle Marie''s mass of hair--are not exactly serious, but nevertheless time-consuming and frustrating. "If you''re white," writes the author, "black hair care is a secret," and she devotes an entire chapter to her dedicated search for the key to that enigma. Finding a mate amid adverse circumstances--the pickings for a female professional are slim in rural Texas—presents another problem, but the central issue is the journey of parenting. This tale of trials and triumph is an engaging, poignant read."--Kirkus Reviews



"Monroe delivers compassion, keen wit, and acute honesty. She never lets us blink; we stare while she figures out how to handle her daughter''s hair; while she suffers at the hands of a doctor; and while her neighbor makes a bad judgment call, leaving her yard and house exposed to passing cars and random predators. She shares her fear with us, and, in doing so, reveals her own bravery."--Foreword



". . .infused with humor and compassion, by turns hilarious and heartbreaking. What shines through in the midst of challenges that never seem to stop coming is Monroe's love for the little girl who transformed her life."--Houston Chronicle


-Chitra Divakaruni

"Should a middle-aged white woman with a history of failed relationships try to raise a black baby in small-town Texas? Author Monroe proves she''s got the right stuff. Candid about men, mothering, racism, and her own flaws, she shows that it''s possible to create something beautiful out of a tattered past."—People


-Anne Leslie

"If On the Outskirts of Normal were a country-rock song, Lucinda Williams would sing it. In this graceful, disquieting and intensely felt account of her navigation from the outskirts to normal, Monroe offers the story of how she became the mother she needed to be—not to Marie, who in Monroe always had a fine mother, but for herself, so she could finally have and keep what she deserved."—Atlanta Journal-Constitution


-Gina Webb

"An unsentimental memoir about a white woman who adopts a black baby in a small Texas town."—O, the Oprah Magazine



"Monroe''s writing is beautiful without being showy or melodramatic. She knows how to get out of the way of a naturally dramatic tale."—Dallas Morning News


-Beatriz Terrazas
Southern Methodist University Press, 9780870745607, 248pp.
Publication Date: May 1, 2010
or
Not Currently Available for Direct Purchase