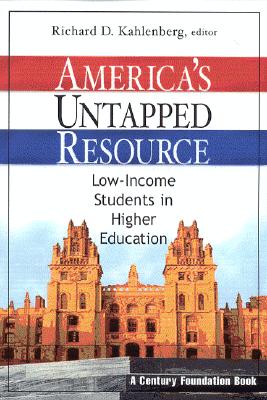 America's Untapped Resource
Low-Income Students in Higher Education
Paperback

* Individual store prices may vary.
Description
With access to higher education more important than ever, low-income students of all racial and ethnic groups continue to lag in participation. What can be done to ensure that more low-income students have adequate financial aid to attend college? That disadvantaged students are academically prepared for college and can persist to graduation? That selective universities are open to students of all economic backgrounds? As Congress prepares to reauthorize the Higher Education Act, a group of widely respected scholars proposes a number of provocative ideas in this volume. Chapters include "Low-Income Students and the Affordability of Higher Education," by Lawrence Gladieux, a former official with the College Board; "Improving the Academic Preparation and Performance of Low-Income Students in Higher Education," by P. Michael Timpane of the Aspen Institute and Arthur M. Hauptman, a higher education consultant; and "Socioeconomic Status, Race/Ethnicity and Selective College Admissions," by Anthony P. Carnevale of the Educational Testing Service and Stephen J. Rose of ORC Macro International. The volume also includes an appendix, "Pell Grant Recipients in Selective Colleges and Universities," by Donald Heller of Pennsylvania State University.
Century Foundation Press, 9780870784859, 188pp.
Publication Date: January 23, 2004
About the Author
Richard D. Kahlenberg is a senior fellow at The Century Foundation, where he writes about education, equal opportunity, and civil rights. He is the author of four books, including Tough Liberal: Albert Shanker and the Battles Over Schools, Unions, Race, and Democracy (Columbia University Press, 2007) and All Together Now: Creating Middle Class Schools through Public School Choice (a Century Foundation Book published by Brookings, 2001). He is also the editor of four more, including America's Untapped Resource: Low-Income Students in Higher Education (Century Foundation Press, 2004) and Public School Choice vs. Private School Vouchers (Century Foundation Press, 2003).
or
Not Currently Available for Direct Purchase