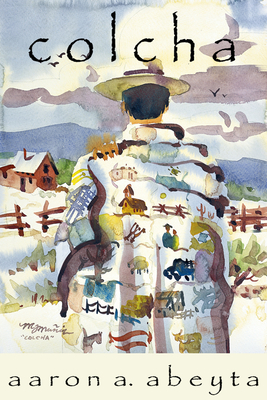 Colcha (Paperback)
University Press of Colorado, 9780870816154, 108pp.
Publication Date: April 15, 2001
* Individual store prices may vary.
Description
Winner of a 2002 American Book Award
Winner of the 2002 Colorado Book Award in Poetry
"The natural voice at work in the poetry sings of one human life as if it were our own. I loved listening."
—Rita Kiefer, author of Nesting Doll
"This just may be one of the best books of poetry I have ever read. . . . This is the kind of writing that give poetry a good name."
—Mike Nobles, Tulsa World
"Abeyta's poetry amazingly captures this struggle with poems that are simultaneously tortured and thankful, celebratory and melancholy, earthly and ethereal. . . . Poet Abeyta beautifully captures the hardships of living in rural Colorado."
—Blue Sky Quarterly
"Abeyta writes about family, friends, and famous (and infamous) locals. His approach is intimate and daring while avoiding the self-absorbed, coffee-house clichés we fear. Yes, death plays a role in the connection of community and the land, but these poems are sly rather than dark, modulated rather than graphic, sweet rather than maudlin."
—Wayne Sheldrake, Colorado Central Magazine
In
Colcha,
Aaron Abeyta blends the contrasting rhythms of the English and Spanish languages, finding music in a simple yet memorable lyricism without losing the complexity and mystery of personal experience. His forty-two poems take the reader on a journey through a contemplative personal history that explores communal, political and societal issues as well as the individual experiences of family and friends. With his distinctive voice, Abeyta invites people of all cultures to enter his poems by exploring the essence of humanity as expressed by his particular Hispanic culture and heritage.
Marked by intimacy and deep sentiment, Colcha not only acquaints us with the land of Abeyta's people, but also reveals the individuals from his life and family history in the most colorful and delicate detail. We meet his abuelitos (grandparents) in poems such as "colcha" and "3515 Wyandot," and hear of their connection to the tierra and its seasons, their labor and its bounty presented both viscerally and lovingly. We also meet the nameless people: the rancheros and the herders and the farmers, the locals in their pick-up trucks, and the women who make the tortillas. Abeyta's reflections on the plight, loves, joys, failures, and exploitation of the common person in such poems as "cuando se secan las acequias," "untitled (verde)," and "cinco de mayo" belong to the literary heritage of such poets as Pablo Neruda, Federico Garcia Lorca, and Walt Whitman.
Colcha is not just for those who love poetry, but for all people who wish to be moved by the music of language and, while listening, perhaps to gain some personal insight into their own lives and cultural traditions.
About the Author
Aaron Abeyta is a poet who was born and raised in the San Luis valley of southern Colorado. In 1998 he won the Colorado Council on the Arts Fellowship for Poetry, and also has won the Grand Prize from the Academy of American Poets, for his poem "colcha." His poems have been published in The Dry Creek Review, Sage Plains Review, Chokecherries, and other literary journals. He is Professor of English at Colorado State University.