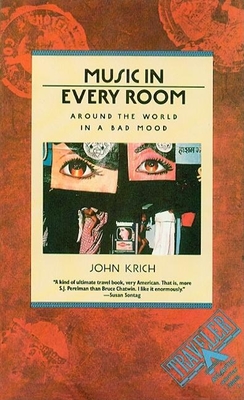 Music in Every Room
Around the World in a Bad Mood (Traveler)
Paperback

* Individual store prices may vary.
Description
John Krich's Music in Every Room depicts the disappointments and corruptions of modern travel. "This quirky, querulous and oddly appealing travelogue" (The Boston Globe) charts Krich's journey across Asia with his irascible, courageous girlfriend, Iris, an ex-cheerleader turned mystic from Liberty, Texas. These two abandon Berkeley for uneasy locales where the first and third worlds rarely butt heads, thus abandoning air conditioning and all the other assumptions and comforts of home. They acquire blisters in the Himalayas and dengue fever in Bali, smoke opium with a suspected CIA agent and fend off the supplications of lost hippies and Gandhian holy men alike. They discover that the Pomp and Joy Lodge in Taramarang harbors bedbugs, and the famed shadow puppets of Indonesia take second billing to reruns of "I Dream of Jeannie." What they don't find is nirvana, satori, or freedom from the crassness of the West.
Atlantic Monthly Press, 9780871131942, 324pp.
Publication Date: January 21, 1994