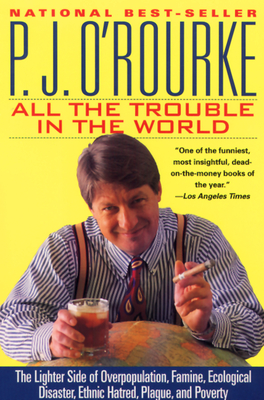 All the Trouble in the World
The Lighter Side of Overpopulation, Famine, Ecological Disaster, Ethnic Hatred, Plague, and Poverty (O'Rourke)
Paperback

* Individual store prices may vary.
Description
With All the Trouble in the World, P. J. O'Rourke once again landed on best-seller lists around the country, confirming his reputation as the pre-eminent political humorist of our time. Attacking fashionable worries - all those terrible problems that are constantly on our minds and in the news, but about which most of us have no real clue - P. J. crisscrosses the globe in search of solutions to today's most vexing issues, including overpopulation, famine, plague, and multiculturalism, and in the process produces a hilarious and informative book which ensures that the concept of political correctness will never be the same again. One of the funniest, most insightful, dead-on-the-money books of the year. - Los Angeles Times; All the Trouble in the World is O'Rourke's best work since Parliament of Whores. - The Houston Post; The dispatches are unfailingly funny....Mr. O'Rourke gets to the heart of the matter with a steady stream of wisecracks....Economists, political scientists and sociologists are inclined to approach the ills of society with regression analysis. P. J. O'Rourke just points and laughs. Not surprisingly, it is Mr. O'Rourke who gets it right. - The Washington Times; Bottom line: Buy the book. - The Wall Street Journal.
Atlantic Monthly Press, 9780871136114, 340pp.
Publication Date: August 12, 1995